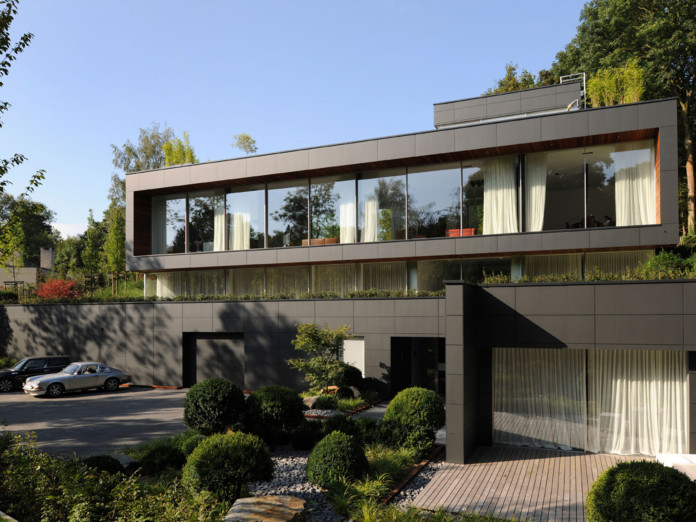 This contemporary home can be found in Uccle, Belgium, within a district called Prince Orange, and it was built by an office called Durce on a large lot of 25 acres. The residence is in close proximity to the beautiful Sonian Forest, and it boasts a superb, contemporary design that involves cubic shapes and an overall sleek architecture.
With 11,836 square feet of living space, the villa features an air of openness, and it is able to house its owners and their guests in remarkable conditions. Accommodations include 5 en-suite bedrooms that boast their own dressing rooms and bathrooms for a plus of comfort and convenience. Other highlights include a state-of-the-art gymnasium that features high quality equipment, but we should also mention the multiple lounges and the kitchen that is directly connected to a waterfront terrace.
The dining room features a large dining table with enough seating for 8, but this table is also linked to an open bar that can seat up to 4 people. An elevator connects the separate floors and ensures quick access to some of the most important areas within the abode. The garage is spacious enough to hold 8 cars, but there is also a driveway right at the front of the villa that can be used for temporary parking.
Ideally located in the district of Prince Orange, at the edge of the Sonian Forest, magnificent contemporary style property of about 1,100 m² (11,836 ft²), built by the Durce office on a plot of 25 acres.

Cubism is honoured with its windows opening onto terraces, patios and water features.

The sleek architectural style of the house makes sense in the choice of materials with elegant lines.

The reception area is composed of several lounges, open fireplace, a dining room connected to a functional "open bar" kitchen itself opening onto a large terrace on the waterfront.

Five en suite bedrooms, all with bathroom and dressing room.

Other: Fitness room outside, home automation system and low energy installations, panoramic elevator and garage for 8 cars.