Work hard, play hard! How to create a fabulous home office? You have exquisite taste when it comes to your home workspace, and since you're working from home, it has become essential for you to decorate the space according to your needs and taste. A commanding and futuristic work environment is what you need to satisfy your desires and work in peace. Here are plenty of inspiration for creating a unique and stylish desk. 
With so many ideas in your mind, you want your space to look as professional as you are, so let's dive into the subject. 
Create a home office that's functional and modern
Home offices are intended to provide workers a great space to focus on their work. It's where you sip your morning coffee and start working. But unfortunately, not everyone does their best to keep the space clean and tidy. These spaces usually end up filled with junk, trash, mismatched pieces, which never inspires someone to get work done. 
So, we're here to help you learn how to create a home office that's both functional and modern. 
Creating a home office feels more expensive than it really is. It's indeed a difficult task, but everything stands in details. Starting to declutter your office space will give you a nice feeling, you'll feel more comfortable. The most important thing to keep in mind when it comes to creating a home office is comfort. Make it a space you enjoy, surround yourself with useful and nice things, so you are motivated and encouraged to finish work.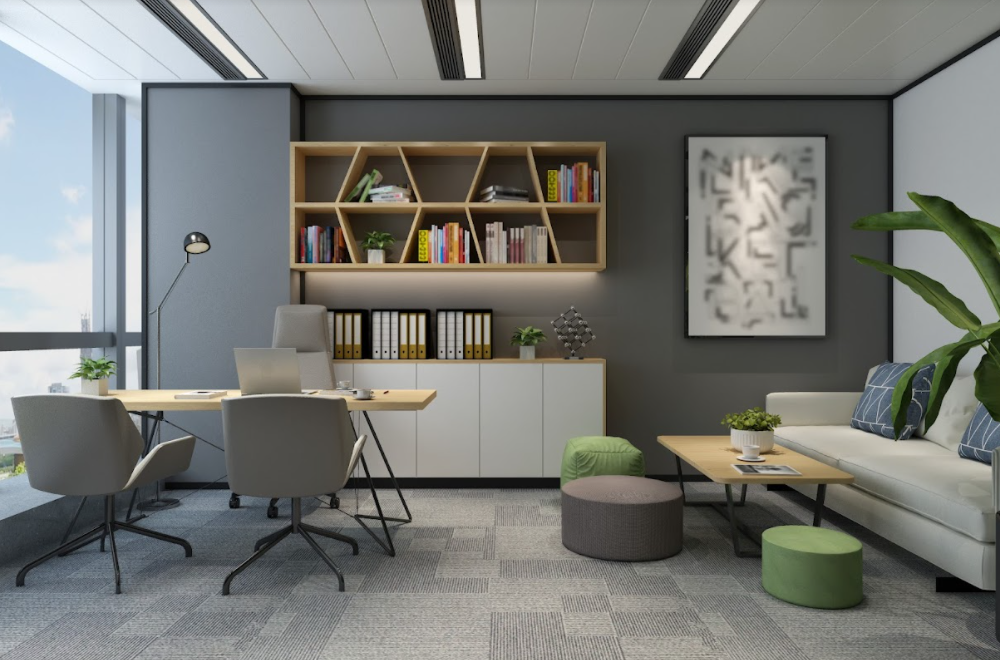 Accessorizing your home office 
When it comes to accessorize your home office, it's important to add items that are often unnoticed. Office supplies, for example, must be put in one place, not thrown away all over the desk. 
Another important thing that you should consider when setting up your office space is the lighting. Do not just rely to the existing light in the room. Add in stylish and well-functional lamps to create a deluxe environment. Add at least two different types of lights to balance the atmosphere. The quality of lighting in your workspace can help improve creativity and productivity. Poor light reduces your energy, mood, and ultimately, produces headaches. If you don't have enough natural light, it's even more important to consider workspace illumination. 
Choose the best flooring for your home office
You would be surprise to know how much it matters to add something comfortable under your feet when spending time in an office. Since working from home becomes the new normal, you must consider creating a home office that can keep your creativity and productivity high. The perfect floor choice depends on your desires. You can enjoy a plush carpet under your feet that comes in various styles and colors. A cozy and comfortable carpet will ease your work, especially if you spend a big part of the day at the office, 
If you work as a virtual assistant UK, for example, you definitely spend more than 8 hours per day at the desk. So, what better way to enjoy your day of work than with a cozy carpet under your feet? Try to visualize your floor style, and consider your preferences. New floors, a new carpet can really make a difference when it comes to create the space you love to work in. 
Music can boost productivity when working from home
Music has been shown to increase productivity and cognitive performance, especially in adults working from home. So, if you're a work-from-home type of person, you're probably looking to settle a cozy and chill environment. Some people focus better on their work when they have background music. Listening to music can help reduce anxiety, and help you stay motivated and productive. All you need to do is choose the right playlist. 
Music therapy is a so common and well-known concept, a technique that therapists generally use to alter the mood of the patient. Match the music to your tastes and how you feel, and then regularly modify the songs to achieve the desired mood. If you're the type of person who finds it difficult to get up in the morning and start the day. find something peaceful at first. From there, you can alter the music accordingly, so you can bring yourself into the state you want. 
Keep clutter away
When working from home, creating a workspace is important to help yourself stay productive and meet the deadlines. But it's almost impossible to remain productive in a cluttered space. Coffee mugs, stacks of paper, random pens, napkins, food, and so on, are the main distractions that can keep you out of your focus. The biggest challenge someone may face when working from home is to stay productive throughout the day. If this sounds familiar to you, then you might need to change something. 
Declutter your home office right away! It's not the biggest room in your home, so trying to declutter and organize everything cannot be that hard. Only keep what you need on your office, as chances are that you might keep a lot of stuff on your home office that you actually don't need. See if things can be moved away in a storage space, or thrown directly to the bin. 
If your work relies on paper documents, make sure you make those papers digital. Now that you're working from home, it's the perfect time to digitize and organize your documents. Thanks to the advanced technology, almost all your business documents can be converted into digital files. 
However, designing a modern and luxurious home office can take time and effort. Nothing comes easy, so unless you put all your efforts into creating the desired workspace, it won't just happen overnight. If you're a home décor addict, you should really read carefully the above tips, and feel free to hunt for more tips online about how to create a modern, comfortable, and luxurious home office.