If you thought that Google's offices were impressive, wait until you see the Viola Communications office in Abu Dhabi! The office was designed by M+N Architecture and was completed in 2014 on the fourth floor of the twofour54 Park Rotana building. It features 15,747 square feet of space and comprises enclosed offices for about 120 employees, operative staff and directors included.

There are three separate entrances as well as waiting areas, related receptions, formal and informal meeting rooms, a higher management section, a pair of video editing studios, a recording studio, a server room, storage spaces, a pantry and a recreational space that has its own kitchen. The higher management area has a striking yet elegant look, mainly due to the use of high quality materials such as marble and oak. The operative area boasts a colorful appearance that sparks the imagination and encourages creativity.

The recreational area was inspired in its design by the renowned Tetris game, while the board meeting room flaunts a Swiss-cheese-like enclosure complemented by custom-made light fittings.
The entryway is inspired by a metro station and features a customized carpet that depicts a metro map, which leads visitors towards introductory screen-boards that present the main highlights of the five departments.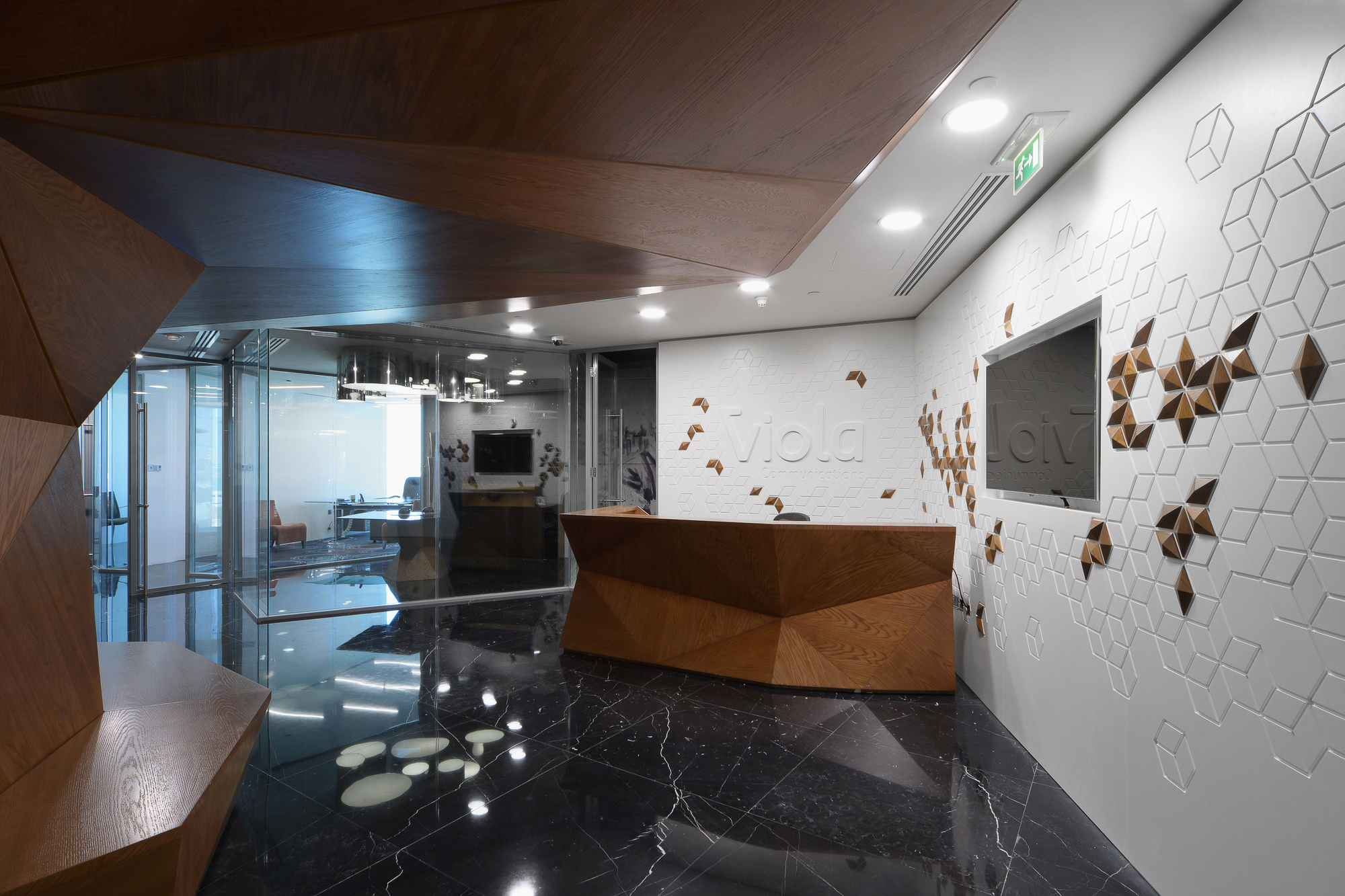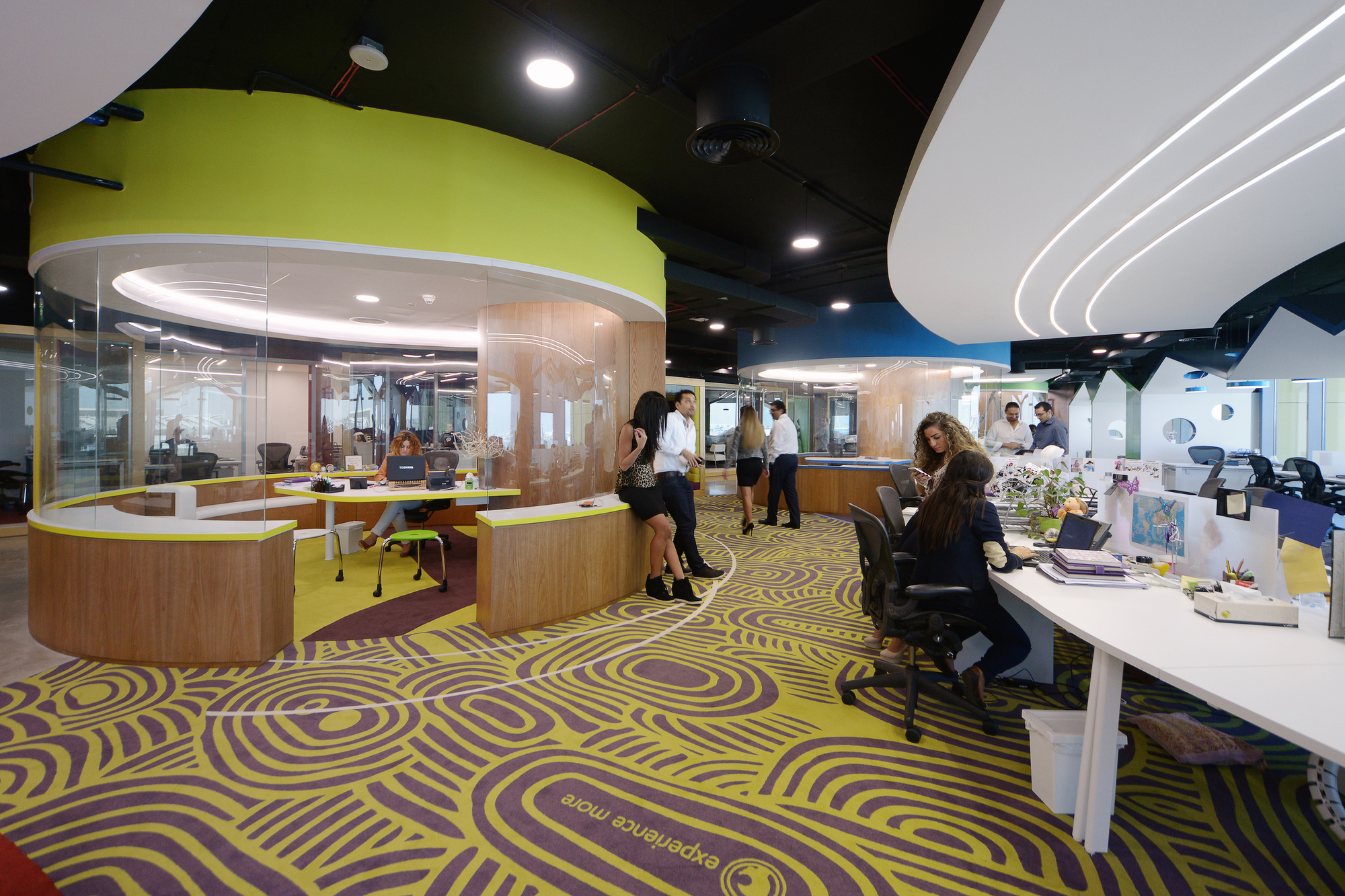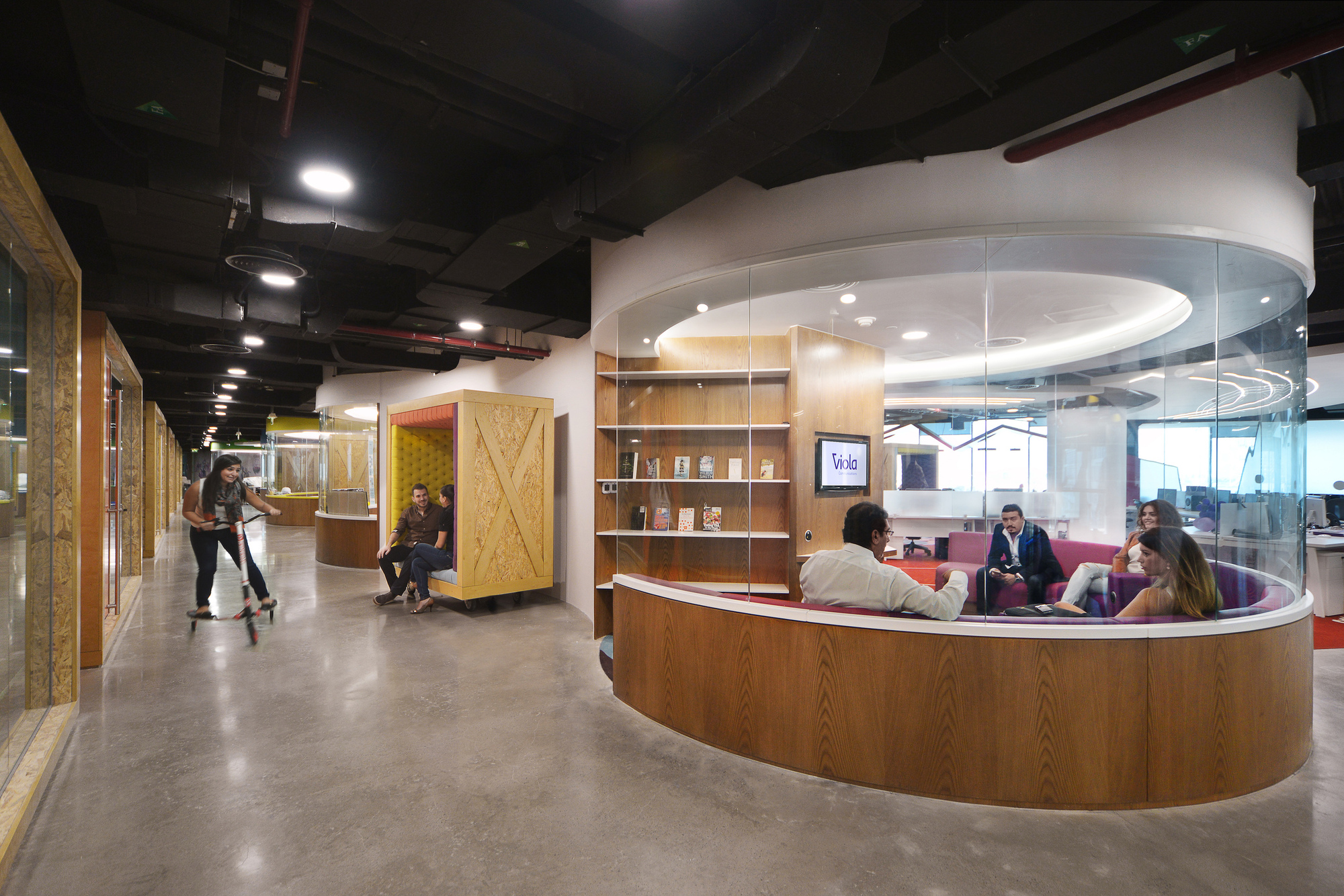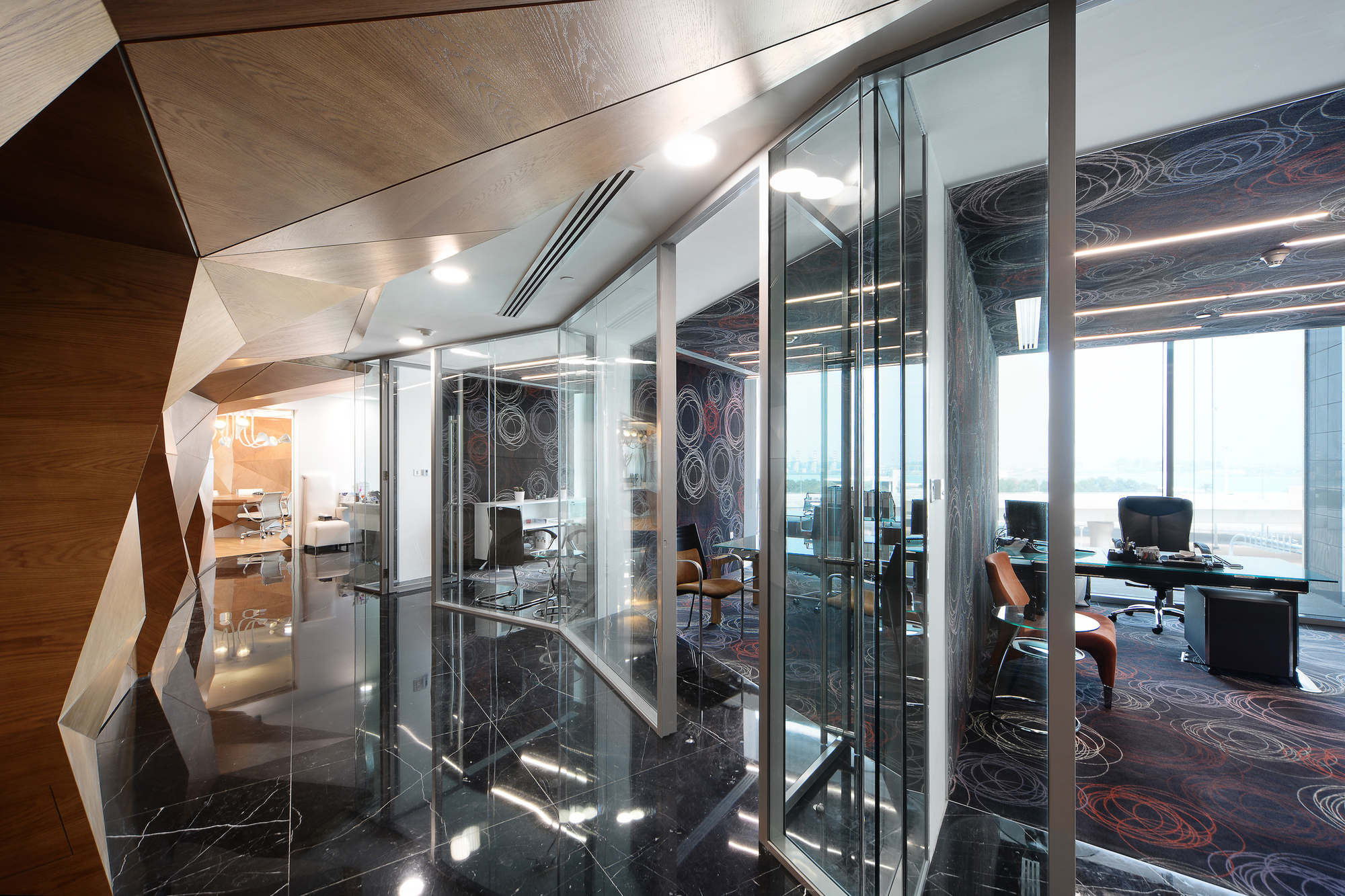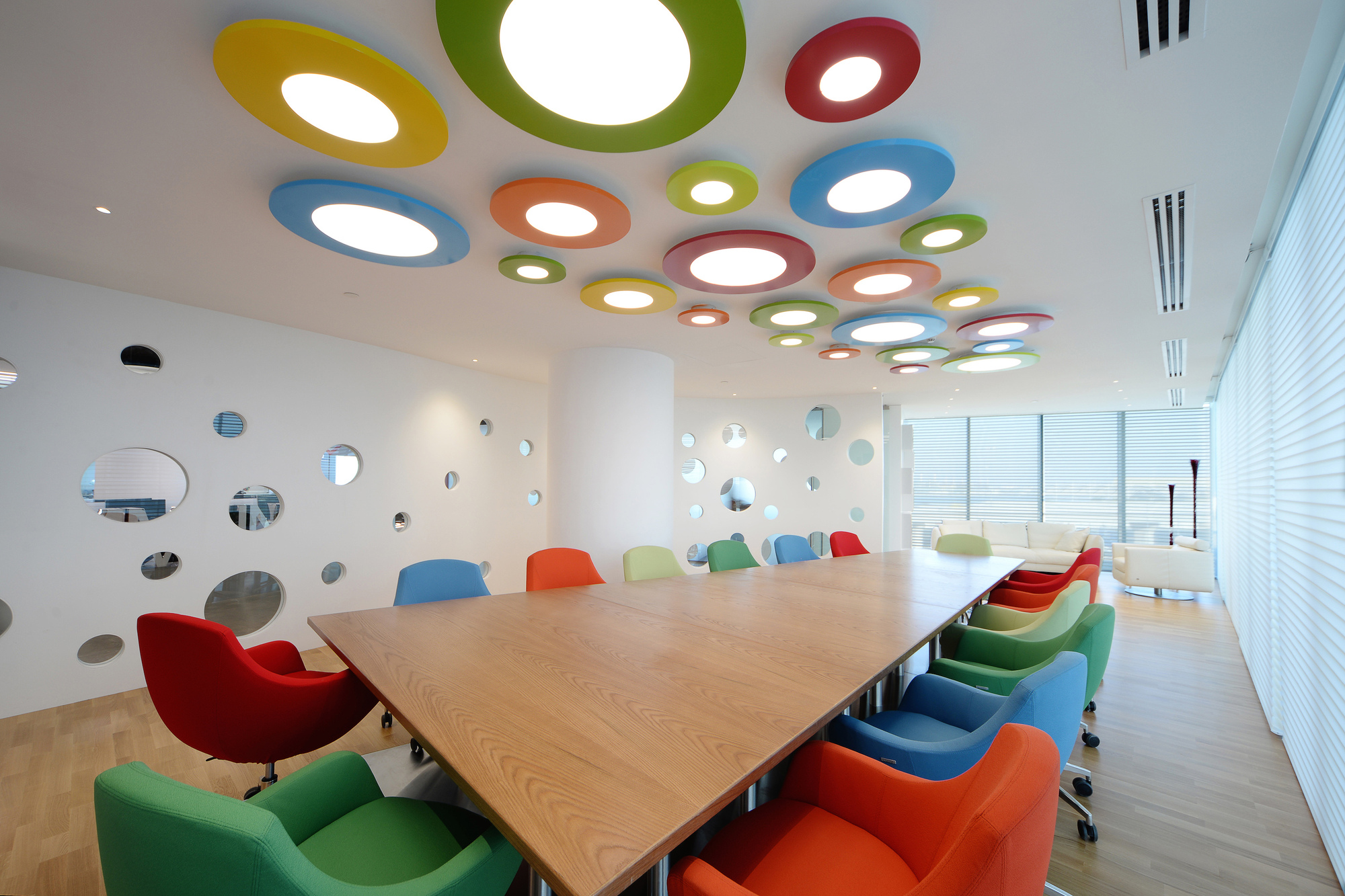 From the architect:
The project is about the interior fit-out of the new headquarters of the well-known company Viola Communications in twofour54, the media free zone of Abu Dhabi, the capital city of the United Arab Emirates. It can be considered the first innovative and conceptual office design in the emirate, where the classic scheme of the typical workplace is re-invented and the traditional arrangement of the office functions into "rooms and corridors" is replaced by a fluid, informal and interactive space. In this innovative design, relationships between users are set to be a priority and an accomplishing remarkable success to the challenge of mixing the local taste with modern interpretation.

The project is located on the 4th floor of the twofour54 Park Rotana building and occupies the entire North wing. The design programme is very articulated and includes a mix of open and enclosed offices for around 120 employees (operative staff + directors) from five different business units, as well as three separate entrances and related receptions and waiting areas, a higher management section, several formal and informal meeting rooms, a large recreational area with attached kitchen able to accommodate all employees for corporate events and gatherings, two video editing studios, one voice recording studio, server room, pantry and storages.

The brief received from client was simple, yet challenging:

– to create a vibrant and creative atmosphere, which can reflect company philosophy and capabilities;

– to provide a flexible office space which increases interaction among employees;

– to divide the office in two sections, one for higher management and one for the operative staff;

– to design the operative area so that it allows all staff to work in the same space, while maintaining a division between directors and operatives and preserving the character of each of the departments of Viola Communications (Advertising, Public Relations, Events, Producers, Outdoor).

The outcome of such challenging requests is basically two projects in one.

The higher management area is visually striking, yet refined and elegant. Main materials are black marble and oak; a simple colour palette makes the spaces vibrant and gives visitors the feeling of entering the HQ of a high-profile, world-class company.

The operative area has a very creative and funky look, definitely something unique for Abu Dhabi. The main office is an open-space where all departments of Viola work together. The zoning is achieved with the use of "the Cylinders" and "the Boxes". Cylinders are open pods containing creative directors' offices, who have their own space, while being in direct contact with their teams. Boxes contain closed offices, recording studios and meeting rooms fully separated from the main open-space area. All teams can easily interact and work side-by-side, while maintaining their individual environment. Different colours are used to mark each department and carpets' custom-made design also changes accordingly.

Several different themes are used to give a distinctive character to each space, always making sure all areas are blending nicely together and following the same design concept.

The main entrance is inspired by a metro station, where a customized carpet illustrating a colorful metro map connects visitors to introductory screen-boards with engaging presentations of the five departments of Viola (for visitors, entering the office is like starting a journey through creativity).

The recreational area takes shape from the reinterpretation of the world-famous Tetris, an icon of 80's videogaming industry and its bright VGA colours.

The board meeting room is characterized by a swiss-cheese-like enclosure and matching custom-made light fittings; such openings in the partition allow for the correct amount of openness without compromising on the necessary privacy.

In the second largest meeting room, an irreverent meeting table with swinging chairs brings all meeting attendees back to their childhood and surely is a "must try" attraction for the new HQ, making it very easy to brainstorm with colleagues as well as to break the ice with the most formal clients.

Scattered around in the open space office are also several "think-tanks"; these movable boxes, softly upholstered in colourful fabrics, are fitted with screens, lights and HDMI-USB connections and can be connected to any floor box for improvised and informal presentations, quick brainstorming sessions or just a bit of relax.

Most of the materials, finishes, fixtures and furniture were custom made to suit Client's and Designer's requirements and were designed specifically for this project; there is almost no straight lines in the project and each piece is kind of unique, as even the themes that look similar or repeated are in fact different from each other in most cases.
Location: E 10 – Abu Dhabi – United Arab Emirates
Design Team: Lorenzo Zoli, Alessandra Barilaro, Giulio Asso, Marco Barazzuoli
Area: 1463.0 sqm
Year: 2014
Photographs: Giulio Asso @ Verdekiwi Photography
Contractor: Life Space Interior Design
Sub Contractors: Iwin, Leaders Decor, Supersign, Vista Systems, Zoom Interiors
Manufacturers: All+, Artemide, Buro45, Duffy London, Ege Carpet, Herman Miller, Lucenova, Moving