Whether you've just moved in or have lived in the same place for 50 years, at some point you're going to want to remodel the exterior. It's more than just a necessity to maintain the condition and appearance of your home. A high-quality exterior will help your home retain its value and even make it easier to sell.
It is also a great way to place your own stamp on your home, even in a conservative neighborhood there are many things you can do to distinguish your home.
Home Remodel: Should You Do It Yourself Or Hire Professionals?
Home remodeling entails making drastic changes to your property. Whether you're touching up your bathroom or making a new layout for your kitchen, a well-thought-out plan and execution are vital to the success of your remodeling project. That being said, before starting out, you must first consider the question: should your home remodel be a do-it-yourself project or one that's supervised and executed by professionals?
There's no single right answer, as what worked for others may not work for you. Before deciding, take into consideration several factors that may be unique to your situation. For instance, a remodeling project is known to be quite expensive, as you'll be altering the existing design and orientation of various sections of your living space. For this reason, some people may opt to DIY the project so that they don't have to hire professional services.
On the other hand, the remodel may involve a number of skills that you might not have, such as electrical work, plumbing, interior design, and the like. In this case, hiring home builders for the project may be your best option. This will help ensure that you get your desired results, with less risk of something going wrong.
Exterior Home Remodeling Ideas
Of course, before you choose between the DIY route and professional services, you should know what needs to be done. If you're still unsure about how to remodel your home's exterior, here are a few ideas worth considering:
Clad It
The easiest way to transform any home is to cover the aging façade with cladding. There is a huge number of different types of house cladding you can use. But, whether you opt for wood, vinyl cladding, metal, or even stone, you'll also have to consider your preferred color. Most cladding options come in an array of color choices; allowing you to choose the one that speaks to you're the most.
The great thing about cladding is that it is very easy to fit and generally maintenance free.
[caption id="attachment_99160" align="aligncenter" width="800"]
house[/caption]
Paint It
If you already have smooth walls that are in good condition or have wood cladding, you may want to simply paint your home. This opens the widest possible range of colors but you may want to get some quotes before you commit.
Paying a professional can end up costing more than having your home clad; doing it yourself will probably mean getting in specialist equipment, such as scaffolding.
However, this is a great way to really design your outside walls yourself.
[caption id="attachment_99161" align="aligncenter" width="700"]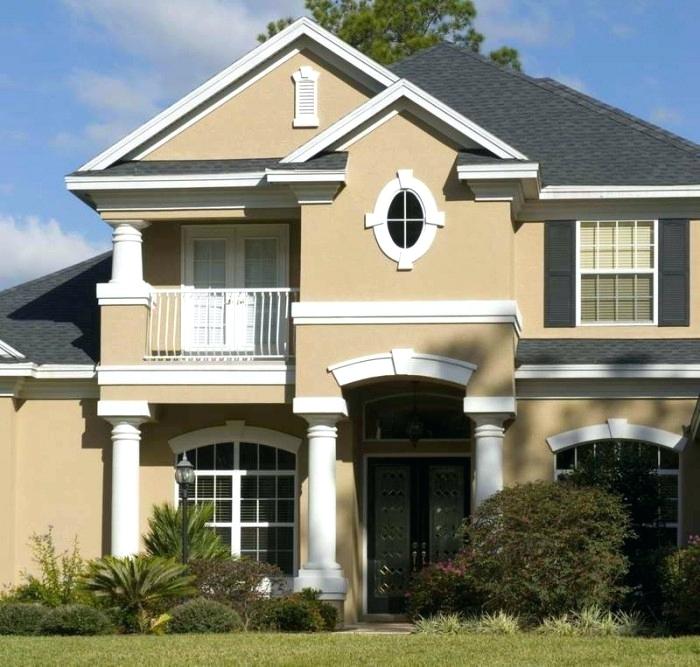 house[/caption]
Landscape
There is very little that you can't do if you decide to landscape your yard in order to remodel the exterior of your home.
You can create open green spaces, hedges fashioned in the shape of objects, a pond, a swimming pool, or even your own mini-golf course.
The key is to do it properly so that your home looks fantastic, regardless of which design you've chosen.
[caption id="attachment_99162" align="aligncenter" width="736"]
This landscape looks fantastic[/caption]
Decking
Adding decking to the outside if your home can transform the look of your exterior. But, it is also an incredibly useful addition, as you'll quickly realize. A well-designed decking area will give you instant access to the yard from your home, a place to entertain, and a place to simply enjoy your yard while relaxing.
Decking can be created on multiple levels and in virtually any shape you like; it's the perfect addition to any home;
[caption id="attachment_99159" align="aligncenter" width="640"]
Adding decking to the outside[/caption]
The Drive
Your driveway is probably the first thing that most people will notice. This makes it a prize target for remodeling. It should lead directly to the front of your home, drawing people's eyes to your stylish front door and newly clad home.
Ideally, you'll want to choose a material that sits well in your neighborhood, is low maintenance but allows you to create your own stamp. Block paving is always a good choice for this as it can have symbols and images included in it.
[caption id="attachment_99164" align="alignnone" width="891"]
house[/caption]