Decorating your home with greenery is a trend that will never go out of fashion. There are many reasons why the indoor decor of your home should have some touch of greenery. Along with giving an elegant vibe, indoor plants keep the rooms fresh by cleaning up the air. Plants help in adding texture and style to anywhere they are placed. They can brighten up the rooms and can bring life to every corner of your house.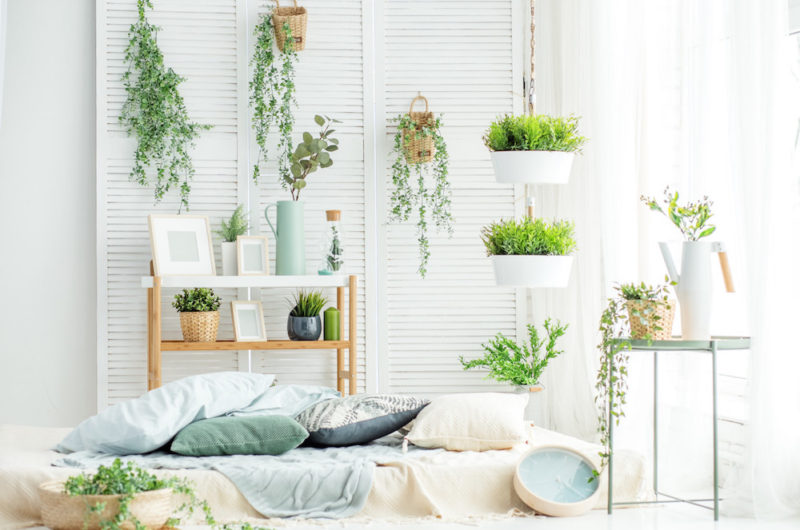 If you're bored of your interior home decor and want to give it a chic look then try adding greenery to it. Home decor by using plants is way easier and less expensive than spending your money on fancy furniture. So if you want to give your home an invigorating look but running short of ideas, here are some tips for incorporating the greenery indoors.
Decorate The Staircase
It's easy to decorate any corner of your house. However, when it comes to decorating the staircase, it becomes quite a challenge because it is quite tricky. You are supposed to decorate it in a way that there will be no hindrance on the stairs and will also look beautiful.Place plants in plain pots and keep them on the edge of your staircase. Using pots of variable sizes will look more attractive. You can also use glass bottles for decorating the stairs. For this, half-fill the bottles with water and put money plants in them. Place the bottles on the side of the stairs after every two steps. This will give your stairs a very different look.
Display As Centerpieces
Another way of adding a touch of greenery to the indoors is by displaying plants in beautiful centerpieces. Along with their vintage vibe, the small plants to be put in them are not that much expensive. 
Such centerpieces can give a very stylish look to the tables of your house. Dining tables studded with them look very festive. You can even make a centerpiece by yourself if you don't have one. To do this, you need a glass pot or a marble pot and paint decorative floral patterns on it. Place cacti in it and your stylish centerpiece is ready to be placed on the table.
Display On The Wall
Decorating bare walls with plants is a good way of incorporating greenery into your room. They will give the room a refreshing and lively environment. This can be done in so many ways. 
Place the plants in small colorful pots and display them beautifully on the wall. This will also add a pop of color to your room. You can also use hanging holders to hang the plant pots with the help of rope. Placing them on shelves and in wired baskets will also give a very noteworthy look. 
Fill Up The Corners
You can fill the empty corners of your room with large plants because they will give a simple yet gigantic glance. Along with giving height and texture, they will also help in maintaining a soothing environment. 
Even if you place only one large plant in a room, it will become a marvelous center of attention. Succulents are a good choice for keeping indoors because they don't require much maintenance and can tolerate dry indoor conditions. Try to place them near a window for a continuous source of light.
Decorate The Entrance
When guests come to your place the first thing they'll pay heed to is your entrance. In this regard, the decor of your entryway is very important. You can impress them by decorating the entrance with a pop of greenery.
You can wrap a wreath with green leaves or leave them hanging. In either way, they'll look enticing. If you want to give an organic view to the entrance, then put plant pots on a bar cart and place it near the entrance. Adding greenery will give a rustic approach to your entryway.
Conclusion
These are only some ways of using indoor plants. There are plenty of other ways in which you can make these beauties a part of your home decor. Be it your entryway or bedroom, your living room, or kitchen, adding plants will always help in making the environment of your home more peaceful.
Being surrounded by plants will give you positive energy and make you feel happier. Indoor pollution is a real thing but most people have no idea how harmful it can be for your health. 
Plants help in cleaning the air of your rooms and keep them oxygenated. 
Surprisingly, plants also reduce noise, making your home a more comfortable place to live in. They also help in reducing stress and sharpen your focus. Considering all the practical and health benefits, you should not give a second thought of adding plants to your indoors.