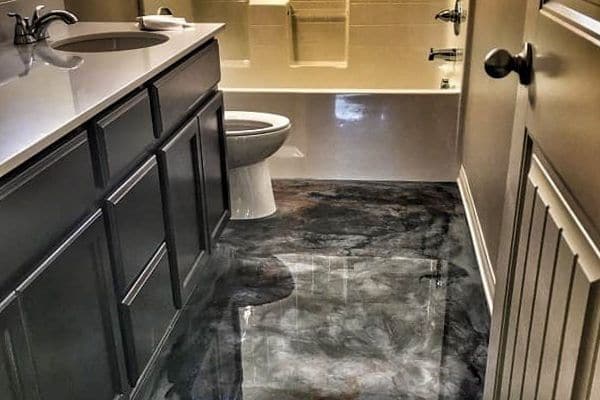 Until fairly recently epoxy flooring has been something used in commercial premises only. It is particularly popular in garages where it can be easily cleaned, is resistant to tools being dropped on it, and it lasts for a long time.
However, there are now an array of premium epoxy floor coatings that are being used in homes across the country. That leads to the question of whether it is a good idea for your bathroom floor.
What Is Epoxy Flooring?
Epoxy flooring is a combination of two compounds, a hardener, and a resin. Separately the two compounds are simply liquids. But, when mixed they react to form a durable and tough surface. Epoxy flooring is usually put down over concrete, this gives it a solid base. The mixture is poured or brushed into position and must be left to set. 
You'll then find it is hard, waterproof, and durable. That is why it has become such a popular option.
Using Epoxy Flooring In Your Bathroom
Epoxy flooring can be created in virtually any colour you want and you can even create patterns when laying your floor. This does take practice, if you are laying a floor and want patterns in it you are best off using a professional firm.
This makes it a great choice as it can be matched to any colour scheme and, thanks to its strength and durability it will last for years. 
It is also worth noting that epoxy flooring has a natural grip adhesion within the compound. That makes the floor non-slip which is useful when you are getting out of the bath or shower. 
The fact that the floor is waterproof and stain-resistant means that you can use it in the bathroom without any worries.
Factors To Be Aware Of
It should be noted that epoxy flooring is not the cheapest option. This is more to do with the installation process than the cost of the material. However, this cost should be offset against the lifespan of epoxy flooring. It should last considerably longer than any other type of floor, making it a good investment. 
It is also worth noting that it takes time for an epoxy flooring to cure completely. While this is happening you can't walk on the floor. That means your bathroom will be off-limits. This is okay if you have a second bathroom. But, if you don't you will need to consider this before you commit to the flooring. 
It should also be noted that for proper adhesion to the concrete base it must be dust and debris-free. To ensure you get the best possible results it is advisable to get the professionals to do it for you. This is much easier than dealing with a floor that has gone down badly and is difficult to remedy.
Final Thoughts
The bottom line is that epoxy flooring can be used in the bathroom, as well as the garage, kitchen, and any other room of your house. The real decision is whether you want epoxy flooring or not.