Tel Aviv is undoubtedly one of the most beautiful and most important cities in Israel, and even though some of the apartments located within this city are not exactly the most spacious in the world, they manage to impress through comfort, efficiency and great looks. Such is the case of this amazing 592-square foot apartment, which originally had a single bedroom and a single bathroom. Courtesy of Maayan Zusman Interior Design, the abode now boasts two bedrooms, one bathroom and one guest toilet as well as an open balcony that offers great views of the nearby greenery.

In order to make the most out of every inch of space, the architects eliminated all built walls except for a small 3.2-foot wall. Most of the space is segmented by cupboards and glass walls, with the cupboards hiding the electrical appliances from direct sight. The bathroom and guest toilets are contained within a glass cube. For a touch of naturalness, the balcony includes an orange tree.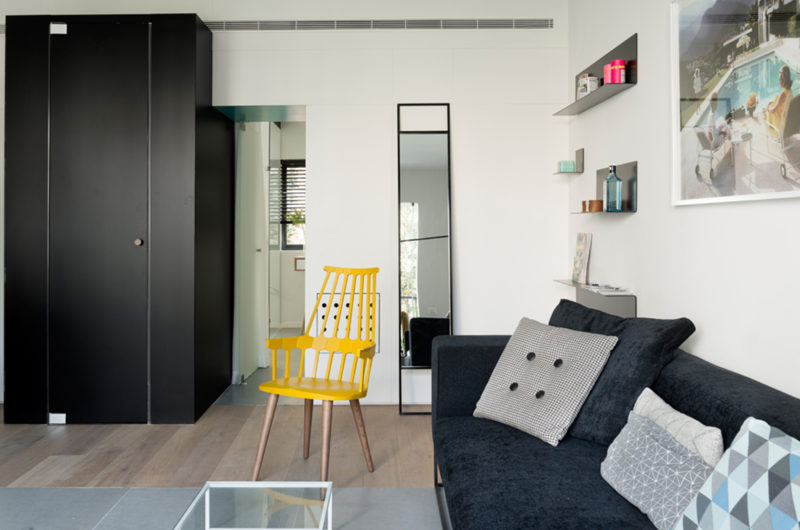 From the architect:
A 55 meters, originally old and run down 1 bedroom, 1 bath apartment turned into a luxurious 2 bedroom, 1 bath and 1 guest toilet apartment with an open balcony overlooking the lush greenery of a quiet street just a stride down from the hot Basel square.

Each cm. was carefully planned and thus the apartment includes no built walls except for a mere 1 meter wall. The rest of the space is cleverly segmented by specially designed cupboards (in which all electrical appliances are hidden) and glass walls.

One of the main concepts of the design was a glass cube that segments the apartment space. This glass cube, both transparent and black glass, contains the "wet spaces" (bathroom and guest toilets). The entire guest toilet is a black cube and in it a smaller yellow cube which is dual-sided and connects it to the main bathroom.

Despite the need to utilize each mm, the balcony was opened and is spacious. In it, an orange tree was planted and in this manner, the greenery was bought even closer to the apartment.

Each detail of the apartment was especially designed right down to the door handles.
Collaborators (Architects/Designers): Amir Navon – Studio 6B, Maayan Zusman, Moran Ben Ami
Area: 55.0 sqm
Year: 2014
Photographs: Gidon Levin 181 Architecture Photography