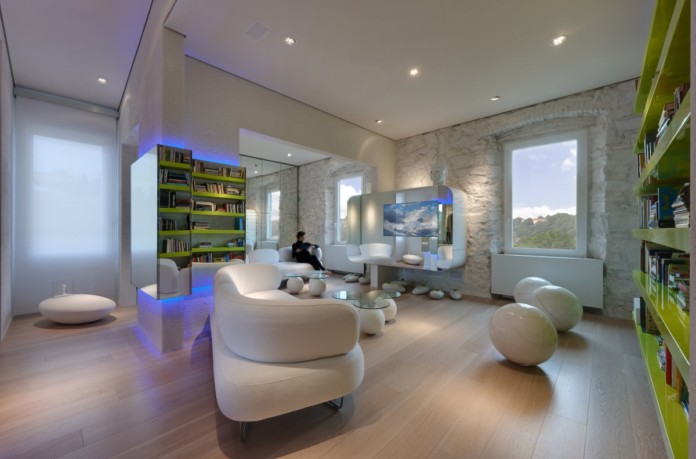 Micheli House is a family home in Florence, Italy, which was designed by the Italian architect Simone Micheli. It is a contemporary refuge, a mix between ancient and modern flooded by natural light.
The project consists in the link between two small apartments in order to create a unified whole through a demolition work.
The house is divided into three levels, the overall height being used to create intermediate floors.
The medieval architecture can be spotted in one part of the house due to the exposed ancient brick wall. The reflections are accentuated by the pillars covered in mirror panels highlighted by a multicolored striped.
The second floor is installed on a wooden loft and accommodates a video room, a fitness area with bike and runner, a bookshelves set and two storage areas.
The third floor consists in the terrace which acts as an outdoor living room with a barbeque area, a kitchen with gas stove and one tank sink.
The core of the house which is protected by a lacquered wood door, is mainly consisted from the technical room where there are placed the boiler, the HVAC and also the boiler's water storage.
The switches with led light signals touch control the led spotlights in the ceiling and the liner white led light placed into the plasterboard counterfeit ceiling.
Because this house was built for a family, it was designed in accordance with their activities, using natural materials and finishing.