Finished in 2014 by HYLA Architects, this contemporary residence in Primrose Avenue, Singapore features 3,595 square feet of space as well as three stories. It comes with an originally designed rotating screen at its front, which is clad in timber on its inner side in order to enhance the privacy of the inhabitants.

The screen is completely mobile, and so it can be operated by the owners according to their own needs and preferences. By doing so, they often change the appearance of the facade, and this adds a touch of variety and liveliness to an otherwise neatly organized design. The first level features a tall ceiling as well as a staircase with seemingly floating wooden steps that lead the way to the upper floor. The staircase is illuminated by a skylight and boasts a triangularly shaped cross-section.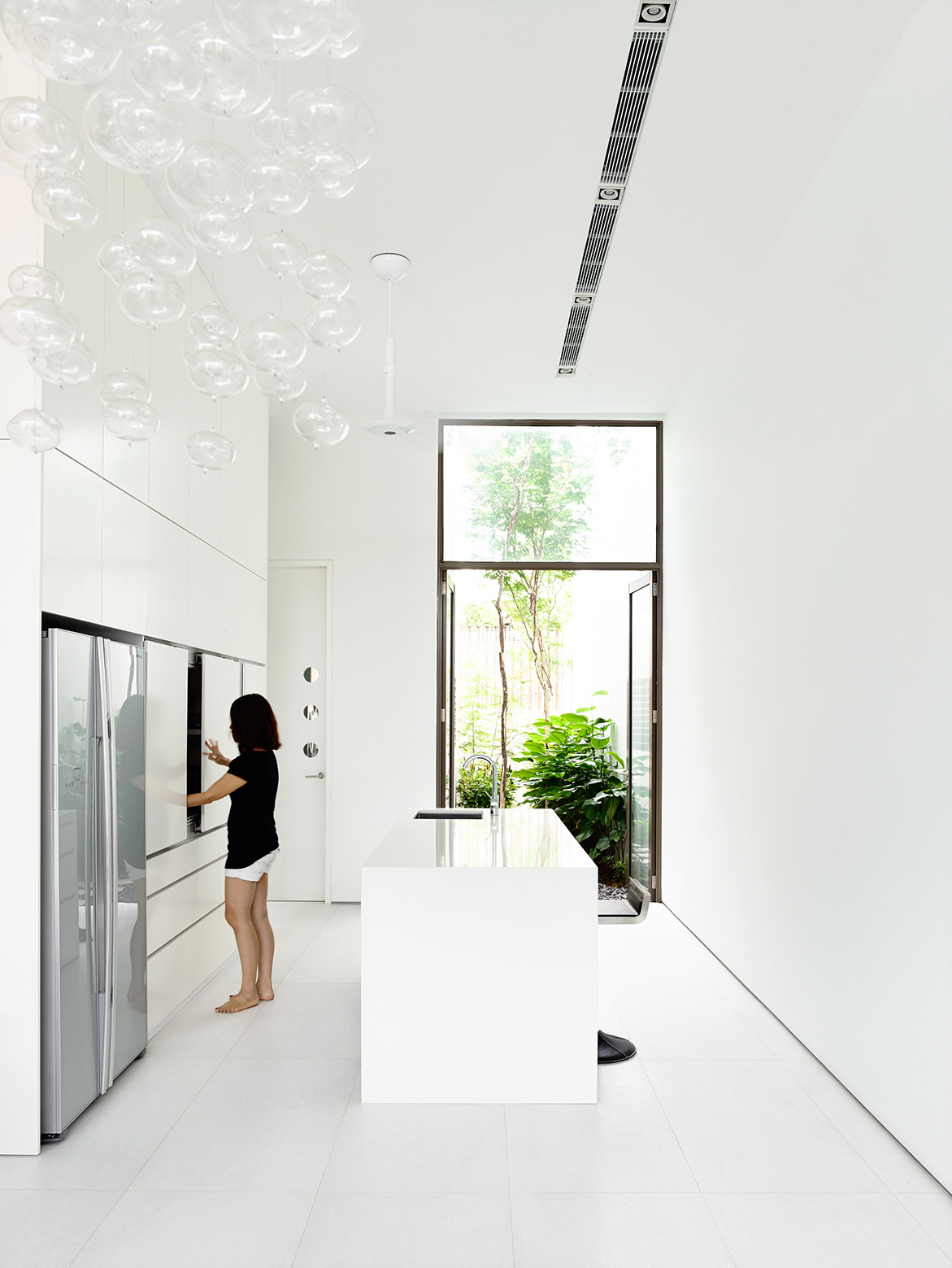 From the architect:
This 3-storey intermediate terrace house has a unique rotating screen on its front elevation. Its cross section has an aerodynamic boomerang shape that serves to deflect wind on one side.

On the other side the screen is clad with timber to give privacy. So the occupants can rotate the screen according to what they need. This also gives the facade an ever changing pattern that corresponds to the mood of its users.

Inside the 1st storey has a high ceiling and good cross ventilation into a rear garden court. The staircase has a unique triangular cross section and is well lit with a skylight above.
Architects: HYLA Architects
Location: Primrose Avenue, Singapore
Principal Architect: Han Loke Kwang
Assistant Architects: Quek Li-En, Watinee Roajduang
Area: 334.0 sqm
Project Year: 2014
Photographs: Derek Swalwell
Main Contractor: Renobest Builder
Structural Engineer: PTS Consultants
Site Area: 185 m2