The Apartment at Paulicéia Building was renovated in 2013 by a team of architects from JPG.ARQ, and even though it features just 968 square feet of living space, it is quite comfortable and inviting. The apartment can be found on Paulista Avenue in Sao Paulo, Brazil, and it originally comprised a living room, two bedrooms, a kitchen, a bathroom, a laundry area and housing arrangements for employees.

The renovation involved the expansion of the living room by eliminating one bedroom as well as the merger of the employee room with the kitchen. All of the rooms within the apartment are linked by a central plywood closet, which fulfills different roles. For example, it acts as a storage unit in the kitchen, a closet in the bedroom and a bookshelf in the living room.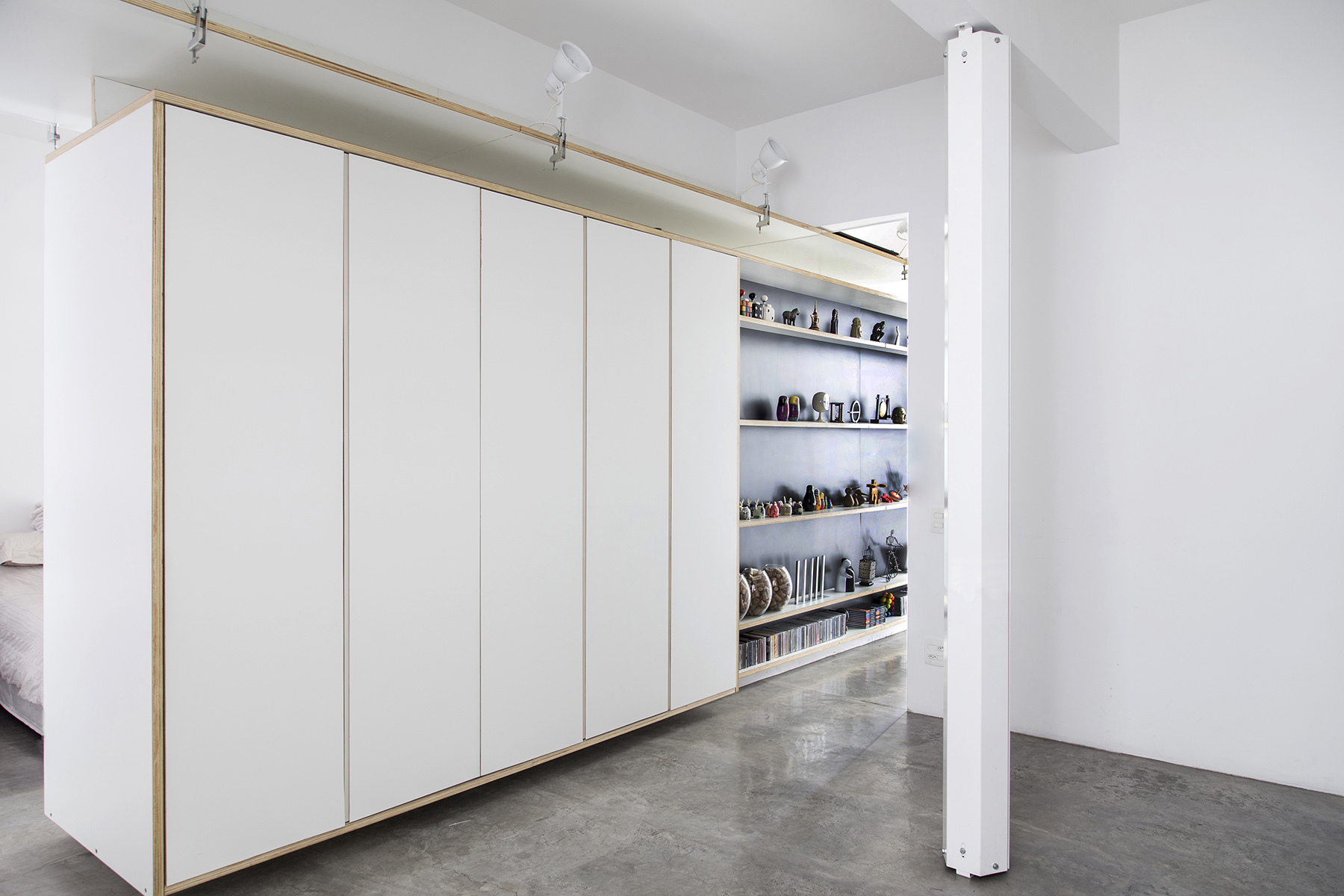 From the architect:
The renovation project of this small apartment located on Paulista Avenue in Sao Paulo, represents an opportunity to intervene in one of the units of the building designed in the 50s by the architects Jacques Pilon and Gian Carlo Gasperini, considered one of the most representative housing buildings of the city's architecture.

On the ground floor of the building, the fluid space connecting Paulista  Avenue and Sao Carlos do Pinhal Street was the reference for the renovation projetct.

The inner walls of the apartment have been demolished and the original unit, composed by two bedrooms, living room, kitchen, bathroom, laundry area and small room for employees, has provided a unique space organized by the volume of a closet. One of the bedrooms has been removed to double the size of the living room. Likewise, the employees room has been joint to the kitchen.

The central plywood closet connects all rooms in the apartment: in the living room, it is a shelf for books and objects; in the kitchen, a cupboard and storage; in the bedroom, a closet for clothes; and in the bathroom, a shelf. The ideal privacy of each room is provided by the proximity of the closet, lift and bathroom. The cement floor has been applied in the whole apartment.
Design Team: José Paulo Gouvêa, Giovanni Meirelles, Thaís Marcussi
Lighting: Luciana Yamamura e Ricardo Heder (Reka)
Area: 90.0 sqm
Year: 2013
Photos by Fernando Stankuns