Casa Delta was designed by Bernardes Arquitetura and was built for a couple with three young children. It is located in Guarujá, about one and a half hours away from Sao Paulo, and it sits on a sloped terrain that's flanked by an Atlantic Forest reserve. The residence is entered from the car park at the lowest level, which includes a wide staircase that leads the way to the first floor.

The first floor overhangs the abode's stone base and offers shading for the car park. It also includes the children's rooms and is clad in sunscreen panels that ensure the bedrooms benefit from utmost privacy. The upper floor flaunts eye-watering panoramas of the sea and beach, which are located just a stone's throw away. Completed in 2014, this project boasts 10,763 square feet of living space and has everything it takes to be considered a dream home.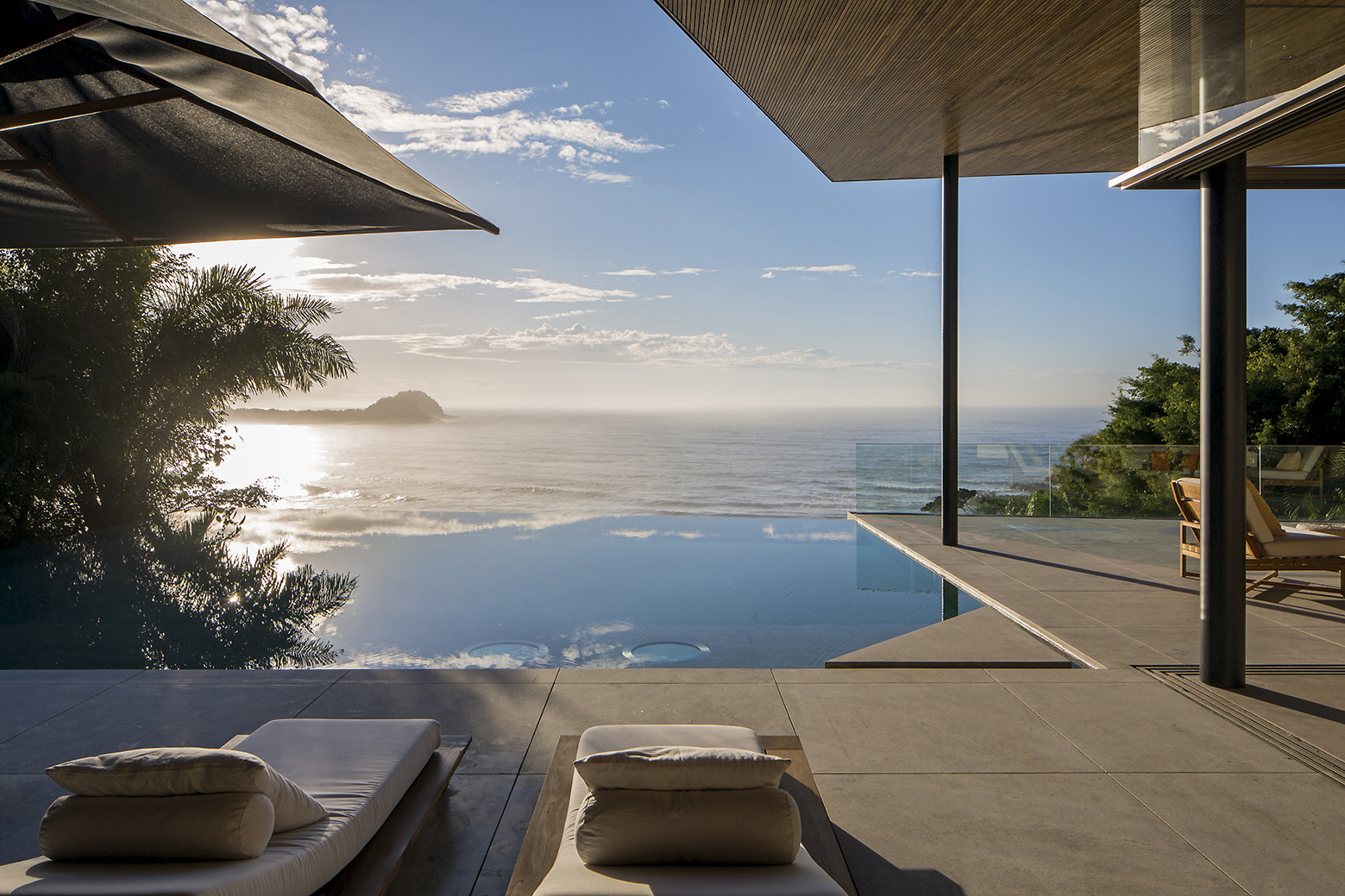 From the architect:
Commissioned by a couple with three young children, this weekend house, located one and a half hours from São Paulo, is built on sloped terrain surrounded by an important Atlantic Forest reserve, in a plot allowed for building purposes.

The functional program was laid out in different levels so as to let the house adapt to the existing terrain and trees in a subtle fashion. The entrance is made from the car park on the lower level, from which a wide staircase shoots up across the first floor and onto the terrace where the social areas and master suite are built under a light canopy.

The first floor houses the children's suites and overhangs the stone base of the house, providing shelter to the car park and arriving guests. The sunscreen panels that clad this volume give privacy to the bedrooms and provide lightness and transparency to the building.

The upper floor is the most privileged part of the house, benefiting from outstanding views of the sea and beach that are less than one hundred meters away. The trapezoidal, wafer-thin canopy sits on large glass panes and forms a pavilion that shares the same floor as the large veranda around it. The interior and exterior grades are one and the same.

The subtle canopy's slope and the orientation of the timber sunscreens guide the eye toward the horizon, where an infinity edge makes the swimming pool part of the ocean.
Design Team: Thiago Bernardes, Dante Furlan, Camila Tariki, Bruno Milan, Daniel Vannucchi, Pérola Machado
Area: 1000.0 sqm
Year: 2014
Photographs: Leonardo Finotti
Interiors: Bernardes Arquitetura
Project Management: Cimenge Engenharia
Construction: All`e Engenharia
Facilities: Grau
Structure: Leão e Associados
Pool Design And Installation: COMARX
Landscape: Isabel Duprat
Lighting Technique: Lightworks