One of the most important rooms in the home when it comes to decorating is not, as many believe, the kitchen or indeed the living room, but the bathroom. Your bathroom is far more than simply a place tow ash yourself, this is your sanctuary, a place where you can enter, close the door, groom yourself, relax and recuperate your  mind and body. For this reason an elegant bathroom design is a wonderful idea for the principal bathroom in your home, and even if you believe that you don't have the funds to do so, there are some simple tricks to employ which will give you the elegance which you are looking for. 
Mirrors
Mirrors offer a sense of opulence and luxury, and it is important that you get creative with your mirror and frame choices. Mirrors can also be used to make the space feel as though it is more amplified, giving it a multi-purpose quality. For a really elegant feel, why not look at getting an LED mirror which can provide an extra tone of lighting in the room, not to mention some additional elegance?  
White or Black
If you are looking for real elegance then keep the color palette to one side and focus instead on keeping it all white or all black. An all black bathroom will give that feeling of modern elegance whereas an wall white bathroom will give the bathroom a more traditional elegance. Add small touches of course but try to keep the color scheme as simple as possible. When it comes to taps and fittings, aim for brushed metal rather than polished metal which will detract from the color. 
Incorporate the Outdoors
The most luxurious bathrooms around the world incorporate the natural world within, and that is a simple tweak which you can make that will really add a layer of elegance to your bathroom space. Bringing in fresh plants or using fine net curtains to really allow the outside world to shine in, assuming there is privacy of course, is a great way to bring some extra elegance to your bathroom.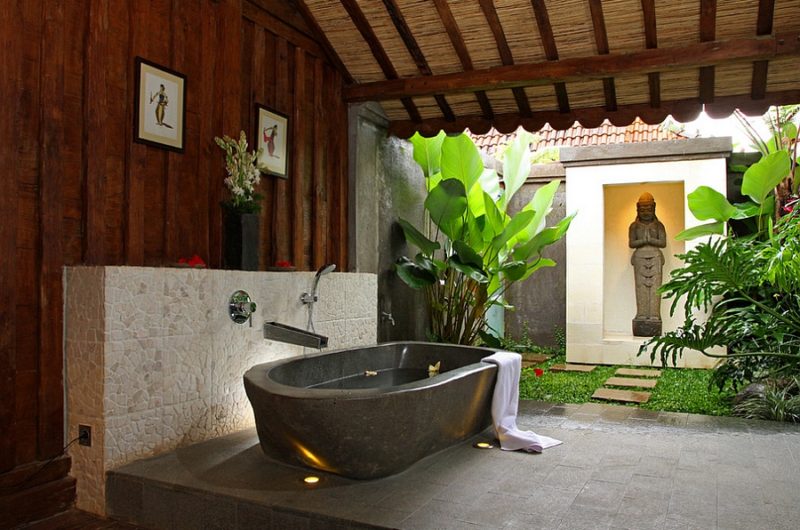 Seating
If you have the space to play with then some fine furniture in the bathroom is going to look great, and a seat in particular is a wonderful option here. Although at first you may be confused with having a seating area in the bathroom, you will soon find that it not only looks amazing, it is also highly practical and you'll find yourself using it an awful lot. 
Towels
There is nothing that will spoil the elegance of your bathroom more than a towel which has seen better days, so be sure to invest some good money in high end towels. These towels are likely to be visible in the bathroom more often than not, so make sure that they are towels which you can be proud of, both in terms of the way that they look and the quality of them.