Penthouse V was completed in 2015 at 9210 Pörtschach am Wörthersee, Austria, and it was designed by a company named Destilat. It was created for a German business family of seven members, and it flaunts 2,690 square feet of living space. Its design honors an Austrian post-war architecture feature that involves using milled eternit façade panels as furniture fronts in the kitchen space.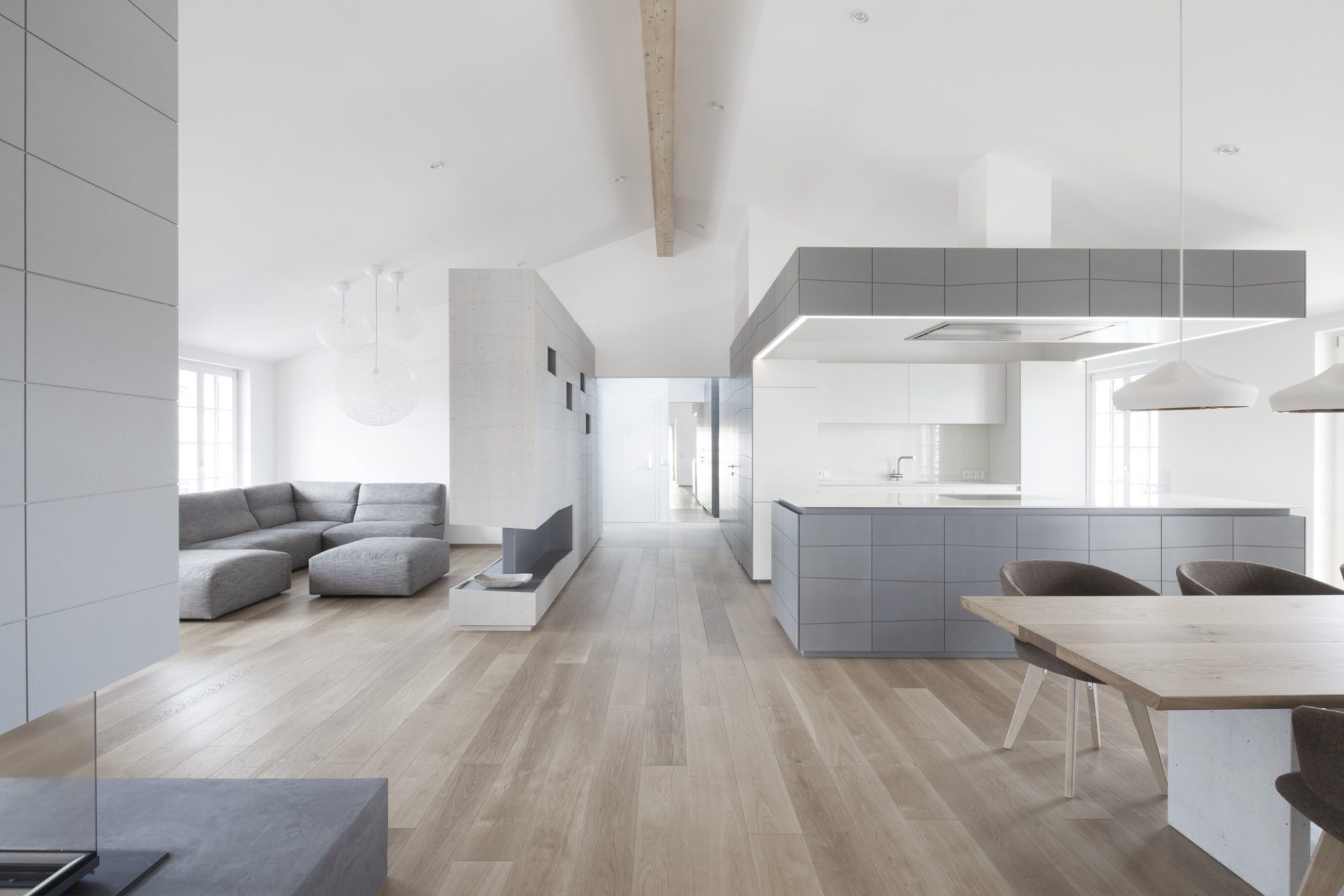 The core of the penthouse is occupied by a spacious living room and something called a "camouflage kitchen."Other spaces such as the bedrooms for kids, the master bedroom and the guest bedrooms are focused around this central living space. The 19-foot high main room receives plenty of natural light and boasts a cozy and welcoming ambiance.
Minimalistic and elegant, Penthouse V also impresses with a combination of crisp white walls, high quality wooden floors and wooden ceiling beams.
From the architect:
In the course of the revitalisation of the former Werzer cinema in Pörtschach, which was designed by the well-known "Wörthersee-Architect" Franz Baumgartner in 1930, parts of the roof truss were raised to make room for a spacious penthouse.

This 250m2 apartment has become the holiday home of a German business family of seven. Bright floors, cosy grey tones, and lavish white surface areas are the sound foundation of this apartment's serene, harmonious atmosphere.

The centre of the apartment is a spacious living room with the so-called "camouflage kitchen", which was also designed by destilat. The fronts of this kitchen are furnished with eternit panels. Its drawers have slightly slanted angles. This fresh design element becomes a welcome counterpoint to the relaxed atmosphere of the apartment. A lighting circle hovers above this central point of the living area and further highlights its atmospheric effect.

The kids' comfortable bedrooms, a guest room and a master bedroom with an en-suite bathroom are grouped around a spacious, central living room.

One of this project's central challenges was to highlight the big and up to six metres high main room in its entirety while creating a cosy and comfortable atmosphere at the same time.

But much effort was also put in the selection of other materials and furniture elements to ensure their practical and user-friendly properties meet the daily requirements of a big family - they have to be kid-friendly and therefore as durable as possible.

The design concept is inspired by structures, textures, and the dynamics of roofscapes. It also pays tribute to a specific feature of Austrian post-war architecture by incorporating milled eternit façade panels as furniture fronts far beyond the central kitchen area.
Architects: destilat
Location: 9210 Pörtschach am Wörthersee, Austria
Area: 250.0 sqm
Project Year: 2015