Bathrooms are one of the most used spaces in a home – between showering, brushing your teeth, and doing your skincare routine, it is a very important room that requires regular maintenance and attention.
Getting bathroom renovations in Adelaide can be both an exciting and expensive process. Every minuscule detail plays a huge role in the vibe of your bathroom and home as a whole as well as your bank balance.
However, it is not impossible to get your dream bathroom under a budget. From minimalistic decor to retro walls and fixtures, here are a few tips you should consider when attempting a complete bathroom renovation in Adelaide to ensure you get a space that lives up to your home aesthetics without breaking the bank.
Plan step-by-step in advance
It may seem cliché but planning makes all the difference, especially when you are attempting to do a complete bathroom renovation that may leave your pockets feeling tight. Having a solid plan will not only give you and your contractor a guideline to adhere to, but it will also allow you to have a better understanding of the costs required for the whole renovation.
You should have a step-by-step plan to help keep you and your contractor on track throughout the renovation process. Identify, list down, and prioritise the elements that need to be addressed first in order of importance.
Ensure you budget for extra expenses
As with any renovation, you may be forced to spend more than your initial budget due to unforeseen circumstances. However, with proper planning, you have the advantage of preparing for the unexpected and thus, minimise the prospects of having to spend over your budget. Ideally, you should plan for an extra 10-30% of your initial budget to make room for unforeseen expenditures.
When budgeting, be as realistic as possible with the costs – there is no point rounding down or estimating the figures because you will end up with an underfunded plan that will leave you stuck in the construction phase for much longer than intended. Break down each element of your budget to include specific expenditures. This way, you get to save more and cut down further on unnecessary spending.
You should also keep track and plan how long the whole bathroom renovation project takes to complete as the longer it is, the more expensive the costs will be. This can be due to equipment operational costs, labour charges, and more. If you get the renovation timeline right, you can budget accordingly and not have to burn a hole in your pockets.
Consider functionality over aesthetics
Although you may be renovating your bathroom for aesthetic reasons, if you are on a tight budget, you have to prioritise functionality. Many design elements such as decor items, paint colours, and so on, can be replaced regularly and will not break your bank. However, important fixtures such as showers and sinks are expensive to replace and can cost you thousands if wrongly installed.
Identifying and outlining your design and the necessary materials beforehand can help you cut through all the superfluous elements and focus on the functionality of your design. As mentioned, every single detail matters – if you are planning on having ceiling showers, you need to ensure you get the plumbing and electrics right so that you would not have to face unexpected repair work in the future that will cost you a lot of money.
Similarly, you need to take into account the cost and durability of the materials that you are planning to use for your bathroom renovation. Tiles may be costly and time-consuming depending on the type you are going for – they also require regular cleaning to prevent mould growth. On the other hand, wooden flooring and walls may be aesthetically pleasing but are expensive to repair, maintain, and replace as they do not last long.
Take your time researching and finalising the design to ensure you are completely satisfied with your final concept plan. Without a detailed plan, you may end up second-guessing your decisions every step of the way and spending more than you intended to.
Choose to upgrade instead of overhauling your whole bathroom
The best way to switch up your bathroom on a budget is to focus on upgrading the fixtures and features which are worn, aged, or broken by patching up minor defects, re-grouting areas that have turned black, and many more. This is not only sustainable and eco-friendly but also prevents you from spending thousands of dollars on overhauling your entire bathroom when all it needed was a little DIY fix.
Likewise, you can save a significant amount of money by maintaining the layout of your bathroom – if possible. Knocking down walls and reconstructing the pipework will cost you a lot of money. You may be surprised to learn that you can have a "new" bathroom just by moving around the furniture as well as playing around with the lighting and colours.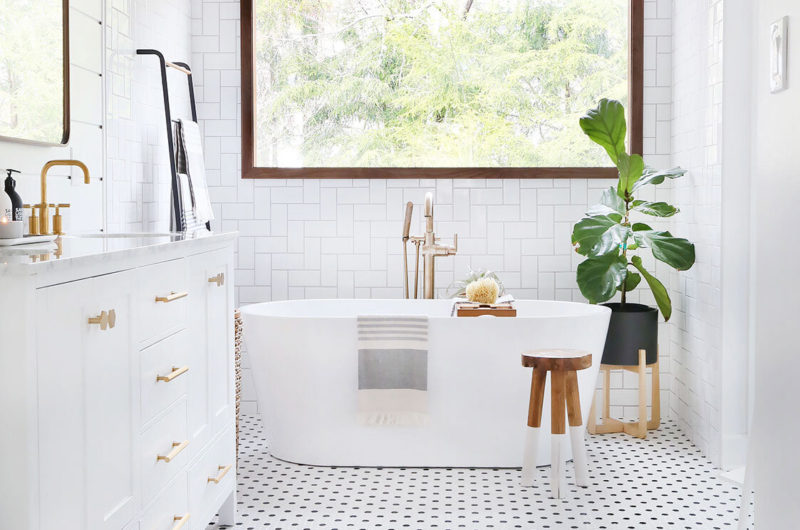 Find alternatives for your walls and floors
Getting new tiles can be very costly. So, you can look into repainting your tiles instead of re-tiling them, or you could also install alternative materials such as engineered wood, peel-and-stick tiles, laminated flooring, fibreglass walls, or acrylic panels. All these options are not only aesthetically pleasing but are also available at a fraction of the price of original tiles.
They are also easy to install and can be done by yourself with a little elbow grease. However, if you are doing this, you need to make sure you have accurate measurements of your bathroom floor or walls to avoid overspending.
Always be prepared for the unexpected
No renovation has zero issues – there will always be some unforeseen problems such as discovering hidden water damage, faulty pipework, or other expensive setbacks that may come up when you start looking deeper into your home. Being realistic and financially prepared for these unexpected problems can help you deal with them swiftly and efficiently.
Most importantly, you should also be patient throughout the bathroom renovation process, setbacks and all. Rushing the process will only result in an unfinished and unsatisfactory bathroom that may have more problems than before. Hence, take the time to research and plan properly to ensure you choose a trusted bathroom renovation specialist who will guide you through the renovation process and assist you with any hiccups – all while working under your budget – so that you can relax and enjoy the final outcome!