Located within the Mörtnäs in Stockholm, this contemporary villa was sketched out by an international company named Fourfoursixsix, and it boasts four bedrooms. The local conditions allowed the architects to come up with and implement a rather unconventional layout hierarchy, which involves having the open plan living space at the upper floor. This space flaunts 10-foot tall ceilings and full height windows that allow plenty of natural light to flow unhindered throughout the house.

During the warm season, the residents can enjoy the warm sun at a spacious south-facing terrace. Underneath the terrace is where the four family bedrooms are. They have lower ceilings and smaller windows that support privacy.

Built in just six months, the villa features a single leaf insulative aerated concrete block that received a light-gray render. Inside, it impresses with simple decorations and high quality materials, including withered pine floors, inbuilt carpentry and flush skirting.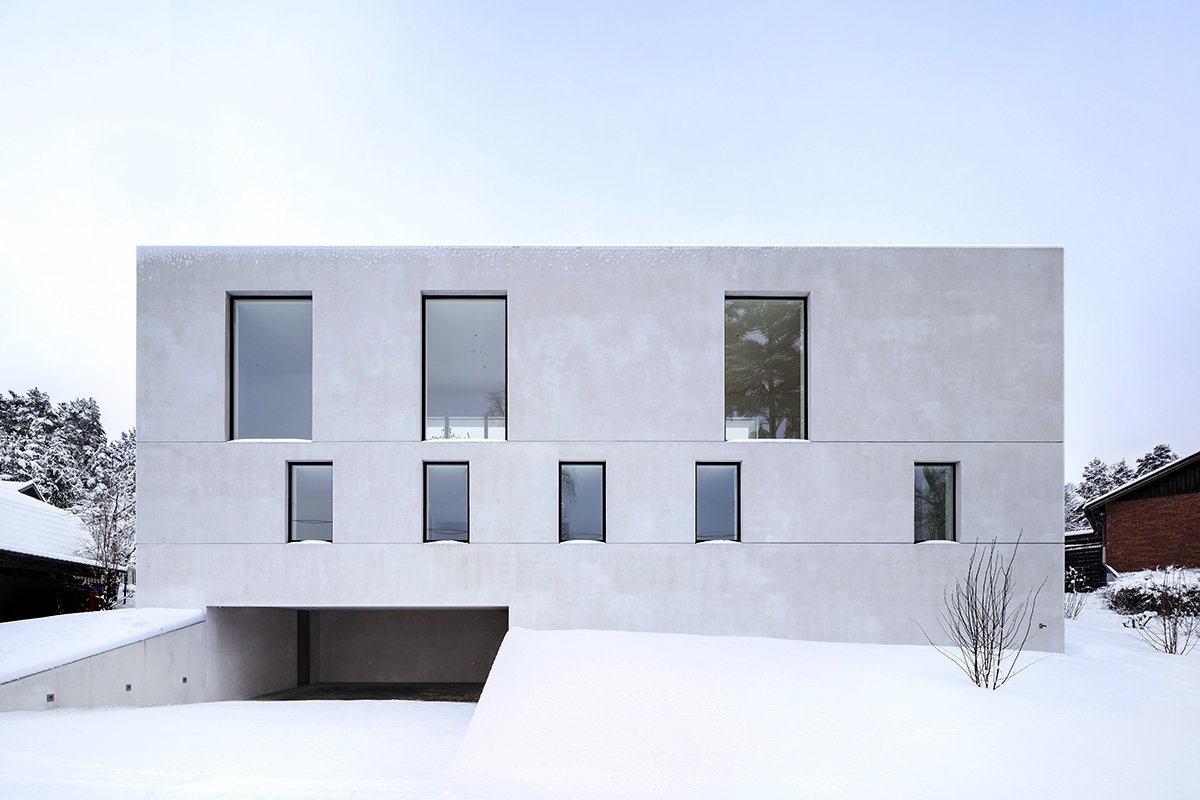 From the architect:
This four bedroom family home, designed by international architecture practice Fourfoursixsix, is located in Mörtnäs, a locality within the Stockholm archipelago.

Fourfoursixsix were commissioned by Strömma Projekt to design a family home that stood out from the vernacular, whilst making the most of a spectacular site.

The naturally north facing granite landscape prompted a reversed hierarchy of layout, resulting in the upper floor becoming a triple aspect, open plan living space, with 3.2m ceilings and full height windows to the rear which encourage vast amounts of sunlight to enter the house at all times of year.

A large south facing terrace provides ample space for entertaining during the Summer months, whilst the rock face it encapsulates helps create a sense of enclosure and maintains privacy. Beneath are four family bedrooms which have lower ceiling heights and proportionally smaller windows.

The design and material choice allowed for an efficient 6 month build, which was coordinated to complete before the Swedish winter set in. The house is constructed from a single leaf insulative aerated concrete block which is coated in a homogenous light-grey render.

The interior is decorated simply with whitened pine floors, flush skirting and inbuilt carpentry, to allow maximum adaptability for the future owners. Large format windows exaggerate the scale of the living space whilst highlighting views to the harbour beyond.
Location: Stockholm, Åland Islands
Year: 2014
Photographs: Johan Dehlin