You've just moved into a new home or you want to redecorate. Let's focus on the kitchen. How do you take it out of the monotony and not make it resemble to the neighbor's? Different appliances, countertop or a special fixture? I don't know if all this is enough to make a difference. But I have a different idea. How about wallpaper applied on one wall or just on one piece of wall? Not so sure about my idea? Well, there's no problem because I'm sure that in the following I will convince you with the help of the fabulous pictures you're going to see.
If you think that wallpaper is a tricky material, forget about this crazy idea, or, if you don't think that it's great in combination with other materials, such as tile, let me tell you that you're wrong. The combination between tile and wallpaper is truly magic, both on small and large surfaces.
If you own an open space kitchen and you can see all the walls in their splendor, from every corner of the living room, it would work if you would highlight the wall facing your table with wallpaper. If we should talk about a small space that you have to decorate, you should choose a wallpaper with small patterns, drawings or simple motifs such as stripes or dots.


Another great idea to use wallpaper in the kitchen is behind a secured glass in the work area. It will take your kitchen out of the ordinary and will turn it into an extremely elegant space, as long as you pay special attention to the colors you use. Make sure you use a discreet shade, as close to the colors of the cabinets as possible, otherwise you risk creating a disturbing image due to a high contrast wallpaper.


What else is wallpaper good for? In many uses, but especially to mask imperfections. You can use wallpaper in places where you consider the wall can get easily dirty, because you have two options: you either change it or stick another wallpaper over the existing one.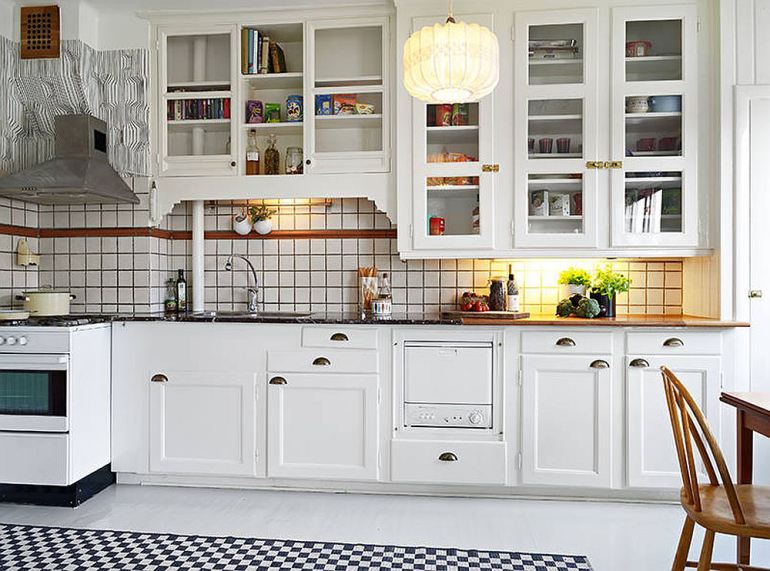 Let me give you one more idea: combine tile with wallpaper: the tile underneath and the wallpaper above it. Be a little eccentric and apply a floral wallpaper or one that is brightly colored. Would it work for you? The effect is wow!


Taking into account the practical aspect which any material used in a room with high humidity should have, the vinyl and fiberglass wallpapers are the most recommended for your kitchen.
The fiberglass wallpaper is, according to the producers, a revolutionary material, which is suitable for decorating these types of spaces due to the many qualities:
* it doesn't brake and cannot be scratched;
* it masks any imperfections of the wall and the fine cracks in the walls and ceilings;
* it is found in a great variety of models;
*it is washable, it insulates sound and it's also environmentally friendly;
*you can even paint it.
All these qualities recommend it as being suitable for decorating your kitchen, but is can also be used in any other room in your home. One thing to remember is that if you want to take full advantage of its qualities, you really need to apply it perfectly, so you might want to ask for professional help. What's truly interesting about this type of wallpaper is that once installed, it acts like a magnet and thus your wall becomes a huge magnetic board.  Interesting right?


The decorative vinyl wallpaper is a cheaper version of wallpaper, available both in compact and expanded version. And this model is suitable to be mounted in the kitchen, all thanks to a series of qualities it holds:
* it is washable, which means you can clean it using a sponge or a brush, without worrying that you could damage it. Relax, it will look flawless after cleaning;
* it is scratch resistant and easier to apply than the fiberglass wallpaper;
* it is antibacterial and also a fireproof product;
* you find it in a great range of colors and prints and it can also be painted if you want to refresh it.
Returning to the compact versus expanded vinyl wallpaper, I can tell you that I found out that the difference between these two is very simple, meaning the compact one is perfectly smooth and the expanded one has an embossed texture. Now, it's up to you to decide which one best suits your home.
The skepticism regarding the use of wallpaper in the kitchen, near the sink, the stove or the worktop, can be removed only by applying it in your own kitchen. But, because it's an easy to install, maintain  and remove material, there is no reason why you shouldn't use it. So, have faith and take the risk for making a major change in your kitchen decor.