Surrounded by no less than 420 acres of beautiful vineyards, the Germanier House boasts a heritage that dates back to 1850, and it can be found in Vétroz, Switzerland. Initially the home of a vineyard grower, this cozy and welcoming abode was the subject of a remarkable renovation project in 2009, a project that was designed by Savioz Fabrizzi Architecte.
The residence originally featured a stone-made substructure that supported a timber construction. For comfort and convenience purposes, the tools and other items that were related to working the land were kept in storage at the stone-made level, while the timber structure housed the private living arrangements. The architects that were in charge of the renovation project wanted to maintain this original layout in order to keep the spirit of the initial abode intact.
Even though it boasts a traditional allure, the residence includes a generous selection of modern amenities as well as high quality insulation. The stone part of the home boasts mineral-based materials such as cement screed, while the wooden part flaunts larch paneling as well as original wooden floors.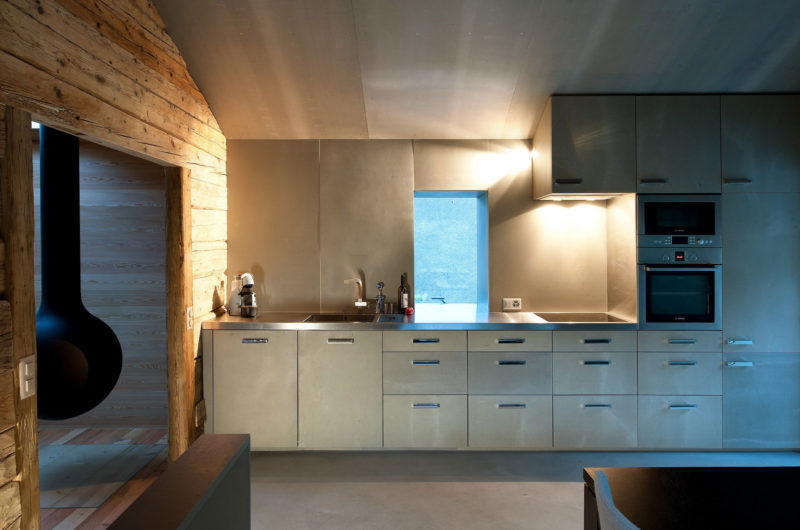 Photos by Thomas Jantscher
From the Savioz Fabrizzi Architecte:
Vétroz, in the heart of the Valais, boasts 170 hectares of vineyards. Maison Germanier, which dates from 1850, was originally the home of a wine grower and stands on a beautifully sunny, sloping site among the vines of the "pays de l'amigne". The present owner of the building wanted to have it renovated.

The house consists of a substructure in rubble masonry, with a timber structure above. The stone part traditionally accommodated the premises associated with the land (wine cellar, stores for tools, foodstuffs, etc.), while the wooden part was the ideal envelope for the living spaces. The elements of the new project were designed with this traditional division of the building in mind. The daytime-use areas are in the upper part of the building and the bedrooms are on the intermediate level.

The varied nature of the structural materials is a particular feature of this building. Thus, the rubble façades have had the render removed and the timbers are retained. The house is fully insulated inside, with mineral materials in the stone part (cement-bonded particle board, cement screed) and organic materials in the wooden part (larch panelling and original floor).