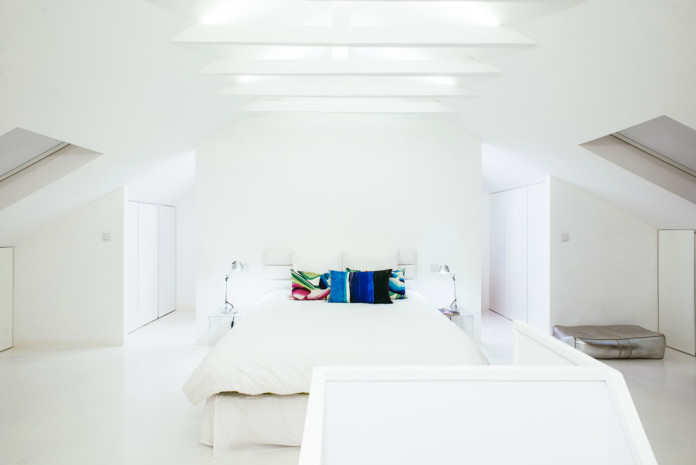 White is definitely the purest of colors, and since it gives off a feeling of cleanliness and minimalism, it is often used decoratively within modern apartments and houses. The aptly named White Attic boasts 861 square feet of living space, and it was designed by Diogo Passarinho and Duarte Caldas. It is located in Lisbon, Portugal, and it was created for a young couple and their two children.

Flaunting two floors, the abode includes a white staircase, white walls, white doors and modern furniture pieces in the same color. The owner requested a special storage area that could be used to house his favorite skateboards, and the architects implemented it along the stairwell. The upper level is flooded with natural light via three skylights, which also ensure great views of Lisbon's airport and its landing strips.
As per request, all of the apartment's surfaces are crisp white. However, some spaces between the bathroom tiles are mint green for a touch of variety.
From the architect:
Designed by two young Portuguese architects, Diogo Passarinho and Duarte Caldas first residential project, is a white space dedicated to young couple with two babies. Located in Lisbon´s city center, this two story space is conceived as a sleeping area and a workplace for the fashion blogger More is Better.

White wooden steps appear at end of an internal existing corridor, leading up to the a new hermetic space. Along the staircase he wanted a storage and display area for his favorite skateboards, while once reaching the new level she asked for a space where she would feel comfortable running her online women accessorize business.

The new ceiling exposes the existing wooden beam structure and three new skylights bring daylight and views to Lisbon´s airport landing strips. Him being a flight attend, these new openings play a huge backdrop scenario where he is able to control his working schedule.

The client specifically requested that all surfaces would have to be white. This created the unique opportunity for architects to insert the only splash of mint green color in between the bathroom tiles. The bathroom also works as corridor where on both extremities you can find which one's closets.
Architects: Diogo Passarinho, DC.AD
Location: Lisbon, Portugal
Area: 80.0 sqm
Project Year: 2014
Photographs: More is Better