The Riverview House was built in 2014 by a team of experts from Studio Dwell Architects. The architect in charge of the project was Mark Peters, who made sure that the end result would be up to par with contemporary standards of comfort and elegance. With 4,000 square feet of living space, the Riverview House is offers more than adequate accommodations for its owners. Its large windows frame beautiful panoramas of the Fox River that can be admired from its living room and bedrooms.

Aside from the main house, the property also includes a garage that is connected to the house via a suspended Ipe enclosed tube. This tube incorporates the kitchen, pantry and a fireplace, and it is flanked by an open glass lined Ipe bridge that can be used to take in the wonderful views of the surrounding environment.

The façade features sturdy, sustainable materials such as charcoal anodized aluminum, concrete and Ipe wood. On the inside, the house boasts exposed steel stairs, glass railings, and stained walnut flooring. The staircase leads the way to the second floor, where we find a well-lit art gallery.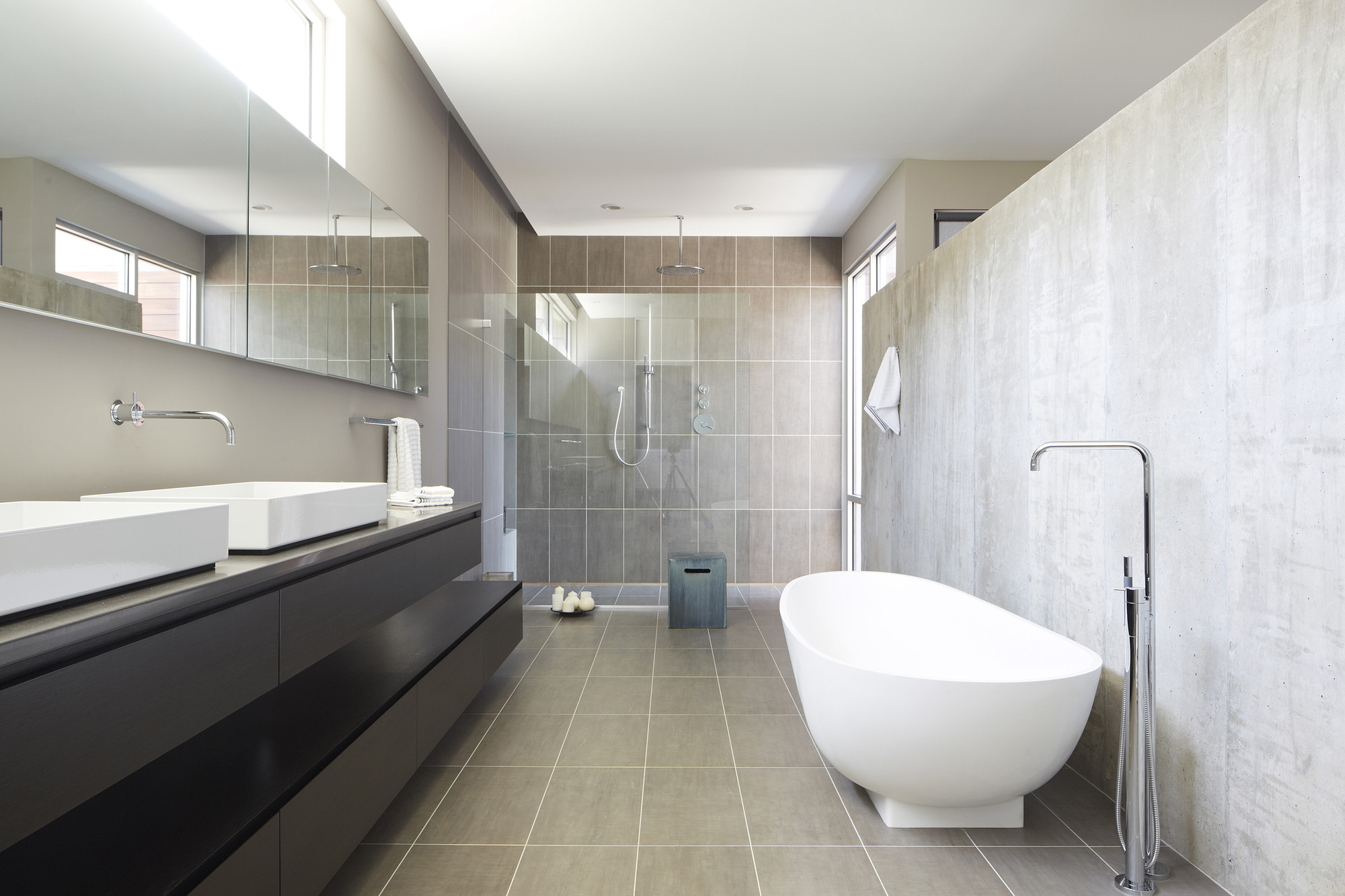 From the architect:
The program asked for a house that responded to its site, framing views of the natural grass sloping terrain down to the Fox River, not only from within the residence, but through it.

The traditional arrangement of public and private spaces was inverted. This allowed for transparency through the house and spectacular elevated views from the upper level towards the river. The upper level has an expansive cantilevered terrace and roof suspended over the lower level providing sun protection from the south and west exposures, helping to cool the house in the summer while providing wind protection in the winter.

The lower level is nestled in the sloping earth providing privacy, security and an intimate connection to the site.

To minimize the footprint on the site, the house and garage are separated but connected by a suspended Ipe enclosed tube element. This enclosed tube becomes the only structure on the upper level and houses the fireplace, pantry and kitchen components. Adjacent to this enclosed tube is an accompanying open glass lined Ipe bridge suspending visitors over the landscaped hill to the front door.

The exterior consists of a simple palette of sustainable and highly durable materials. The base is exposed concrete, the upper level clad in charcoal anodized aluminum panels and both accented with Ipe wood for balance.

The interior finishes include stained walnut flooring, Ipe, glass railings and an exposed steel stairs that transcends into a 2-story light filled art gallery.

The master bath is bathed in natural light from several discrete sources reflecting off the tiled floors and the partial height exposed concrete wall separating the bedroom.
Architects: Studio Dwell Architects
Location: Wayne, IL, USA
Architect in Charge: Mark Peters
Area: 4000.0 ft2
Project Year: 2014
Photographs: Marty Peters
Owners: Bernard & Catherine Morauw
Engineer: Louis Shell
General Contractor: George McLeod