Have you ever thought of buying a student apartment? If so, then you must have gone through various options to select the best one. Here, we will define the impressive features of a modern Student Apartment. We are discussing the Black and White Slow Living Student Apartment situated in Depok, Indonesia.
So, being a student we often think for an apartment nearer to our colleges or university. Student life can get quite exhausting, and having the ideal space and location is top priority. Sometimes you might have too much things on your plate but you can always head to 123Homework to get your assignments done while you peruse and settle in your new student living quarters.
This luxurious and state of art apartment is situated around universities within Jakarta, Indonesia. The modern concept and designing of this house are according to the student requirements and necessities.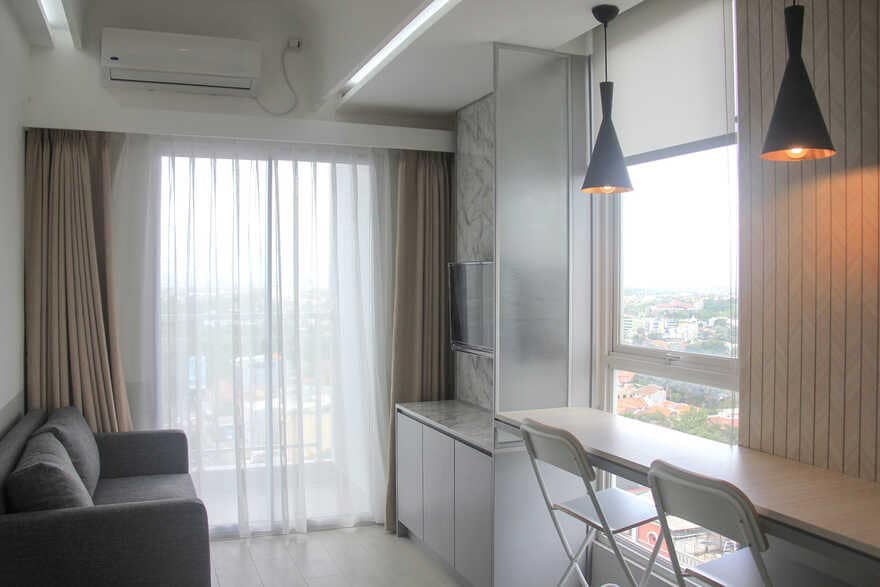 Modern Interior Design of Student Apartment
The crisp design and style of the apartment having a one-on-one bedroom, a studio unit, and a kitchen, all in one, is stupendous. Concerning the student facility, its location offers an easy drive from the campus to the apartment. The bed offers comfortable accommodation amidst everything near to it.
Spacious Arena of Student Apartment
The students can enjoy and experience a peaceful life at the incredible student apartment. In terms of space, despite the limited expanse, it offers students to read books by day, relish a cup of coffee or tea, can have friends over, and more. Cabinet designing maximizes the space of the limited arena delivering unity.
Captivating Architecture
The apartment has black and white elevation and composition of marbles as the main feature to attract students more.
However, the studio unit is all embraced with the black tone element with a blend of concrete design on walls. The apartment is modern and stylish and brings the home-like ambience to students.
Moreover, the curved ceiling portrays the resemblance of a different place, unlike Jakarta. The superior white marble, texture, and appearance highlight the cleanliness of the apartment.
Soothing Surrounding
The soothing view of the surrounding is very much pleasant to relax our mind. By the window, the bar tables function as the additional social space for studies and dining, that even offers to gather and enjoy.
Additionally, the grey shade is leading to a cool and calm environment. Meanwhile, the mint colour is making the kitchen a focal point of the arena.
And, the gorgeous living apartment features a flexible and more pleasing routine that is best suitable for a student's life. So, if you have not selected any apartment till now, then go for this one.