Built almost entirely out of bamboo, Sharma Springs is an outstanding residence that was finished in 2012 in Bali, Indonesia. It was sketched out by IBUKU and boasts six levels as well as four bedrooms and a total of 8,072 square feet of space. Its entryway is based on a superb tunnel-bridge that leads directly to an open-air dining, living and kitchen area on the fourth floor.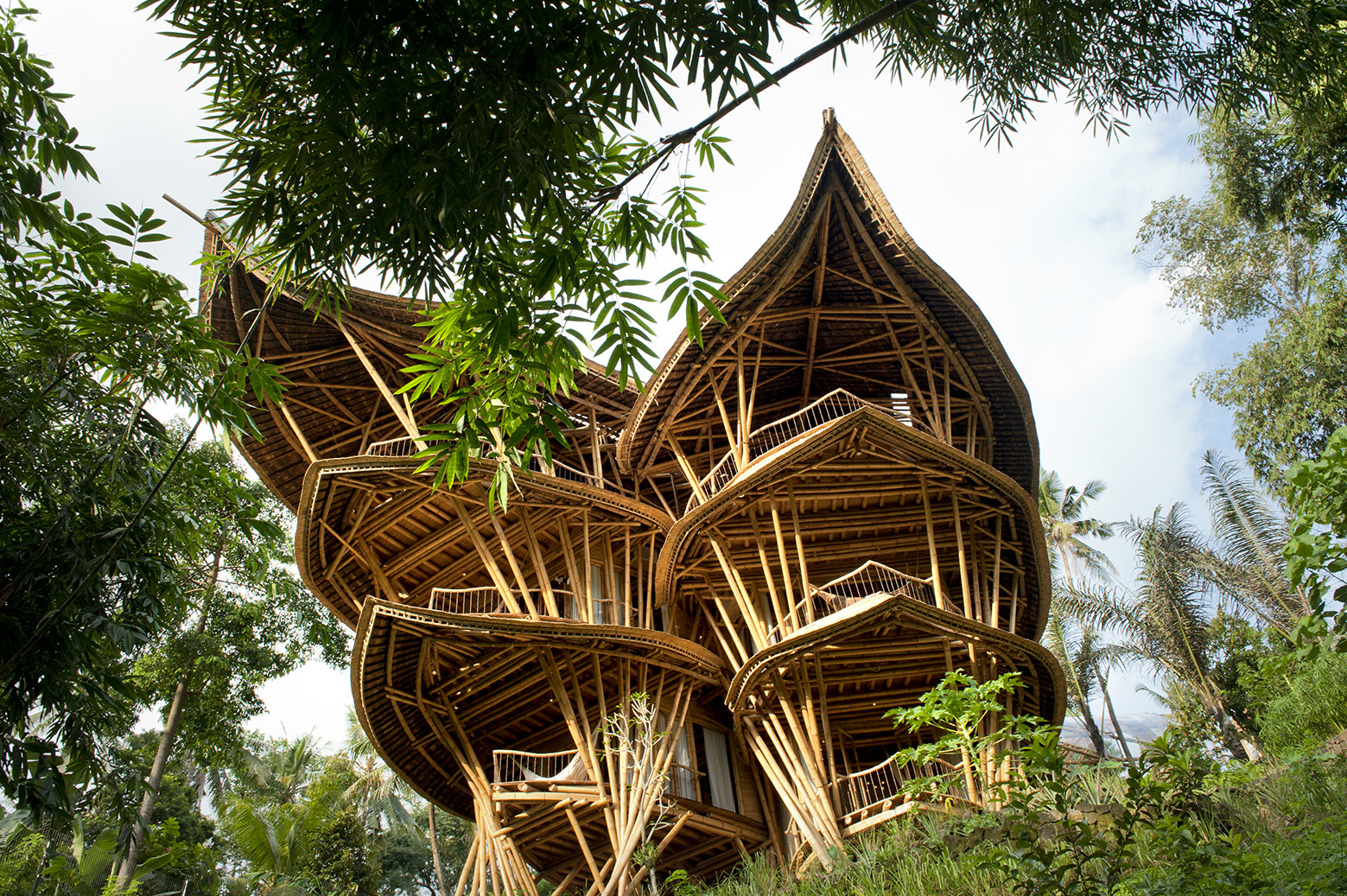 The different levels are connected by a series of circular staircases, which lead the way to the four bedrooms, the library and the playroom, each featuring air-conditioning systems as well as other high-end conveniences. The top floor offers breathtaking panoramas of Green Village and the Ayung River valley.

IBUKU's experts designed all of the furnishings in this residence, while skilled metal smiths took care of the shower stalls and stone carvers from Java created the counter slabs out of actual boulders.
From the architect:
Sharma Springs was designed for the Sharma family as a jungle fantasy escape. It is a 6-level, 4-bedroom 750sqm home overlooking the Ayung river valley, built almost entirely of bamboo. The entry to the house is via a dramatic tunnel-bridge that brings you directly to the open-air living, dining, and kitchen spaces on the 4th level.
The staircases circle around the central tower to the levels below: a play room, as well as four bedrooms and a library that are each enclosed for air-conditioning with full length spinning glass windows and doors. The 6th-floor lookout is a front-row seat to the amazing sunset views over the Ayung river valley and Green Village.
Master metal smiths custom-built the shower stalls; stone carvers from Java carved boulders into counter slabs. Our team also custom-designed each item of furniture in this house. Ibuku, Gardens follows permaculture design principles, designed the surrounding gardens.
Architects: IBUKU
Location: Sibang Gede, Abiansemal, Badung Regency, Bali, Indonesia
Architect in Charge: The Key Team members
Area: 750.0 sqm
Project Year: 2012
Photographs: Rio Helmi, Errol Vaes
Bamboo Engineer: AsharSaputra, PhD
Foundation Engineer: Ketut Sudarsana, ST, Ph.D, AU
MEP Engineer: CV Solusi Strategis
Lighting Designer: Phil Wilson (CV Solusi Strategis)
Site Area: 2602sqm