Townhouses in Cordoba is an intriguing housing project that was designed and built in 2015 by Estudio A+3. The project was commissioned by two brothers who wished to enjoy their own private living spaces even though they shared the same lot of land. The architects created a house split in two equal parts, and each part features its own partially covered parking space, dining room, kitchen, living room, grill and gallery.

The entire width of the house is occupied by sliding floor-to-ceiling carpentry, which represents a transitional element between the indoor and outdoor spaces. The ground floor includes the bathrooms as well as a staircase that ensures access to the second floor, where the bedrooms are located. One of the bedrooms faces the street, while the other two feature a common terrace and are linked to the courtyard.

Boasting 3,293 square feet of living space, the Townhouses in Cordoba project offers exceptional living conditions for two families.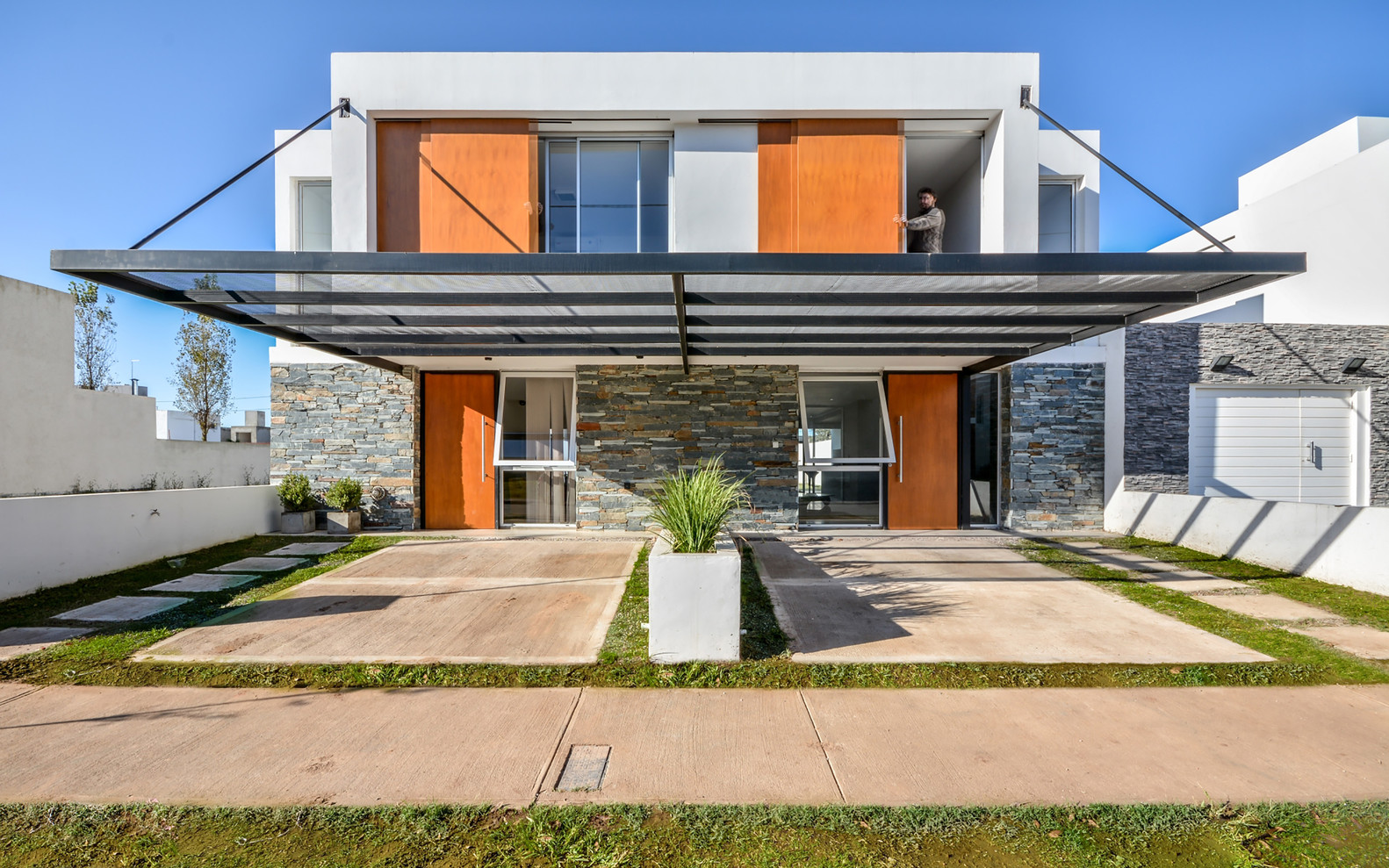 From the architect:
North Chacras is a new residential area, well established in what was an agricultural area, minutes from the city of Cordoba. The project was born from the need to Facundo and Juan Cruz (brothers and each with its own family) to have their own house, having this land in common.

By the provision of the lot and with the intention of being fair in proportions and dimensions  the land was split longitudinally in a 6,2mts by long each.

Each unit consists of ground floor partially covered parking, a unique space in which daily life (living room / kitchen / dining room / gallery / grill) is developed and integrated by mobile panels can be moved responding to the different usage needs.

The intention was to create a flexible and integrated (interior – exterior) space, by  using sliding floor to ceiling carpentry that  occupies the entire width of the apartment. Providing full connection with the gallery that acts as a transition between inside and outside. The ground floor is completed by a wc and stairs connecting with the upper level.

Bedrooms are located in the second floor. One of them (the suite) facing the street, and the other two bedrooms have a terrace in common in connection with the courtyard.

The  group presents itself as a single volume with pure lines and volumes. The horizontality reinforces the  whole. The use of stone "taco san luis" interior and exterior provides warmth to the spaces. Sliding sun visors were used in the windows facing north. Parking deck with perforated metal acts as a solar screen over the entrance area.
Architects: Estudio A+3
Location: Córdoba, Cordoba, Argentina
Area: 306.0 sqm
Project Year: 2015
Photographs: Gonzalo Viramonte
Design Team: Lucas Asensio, Pamela Asensio, Maria Vega