Flaunting 3,153 square feet of living space, the PELICANO House was completed in 2015 in Cariló, Buenos Aires Province, Argentina. It was designed by Estudio Galera and is divided into two parts, which separate the social spaces from the private ones. These "wagons" are organized in an L-shaped layout and are divided by half a level. They are connected to a beautiful garden inserted in front of the main façade, and they benefit from plenty of natural illumination and ventilation.

One of the key aspects in the project's development was focused on the play of sunlight over various textures. The effect sparks the imagination and adds a welcomed touch of variety that all but eliminates boredom throughout the day. The materials used for this project are in their natural state and create rich tactile and visual textures. Concrete elements are complemented by stone and timber features, which add a touch of naturalness and ruggedness.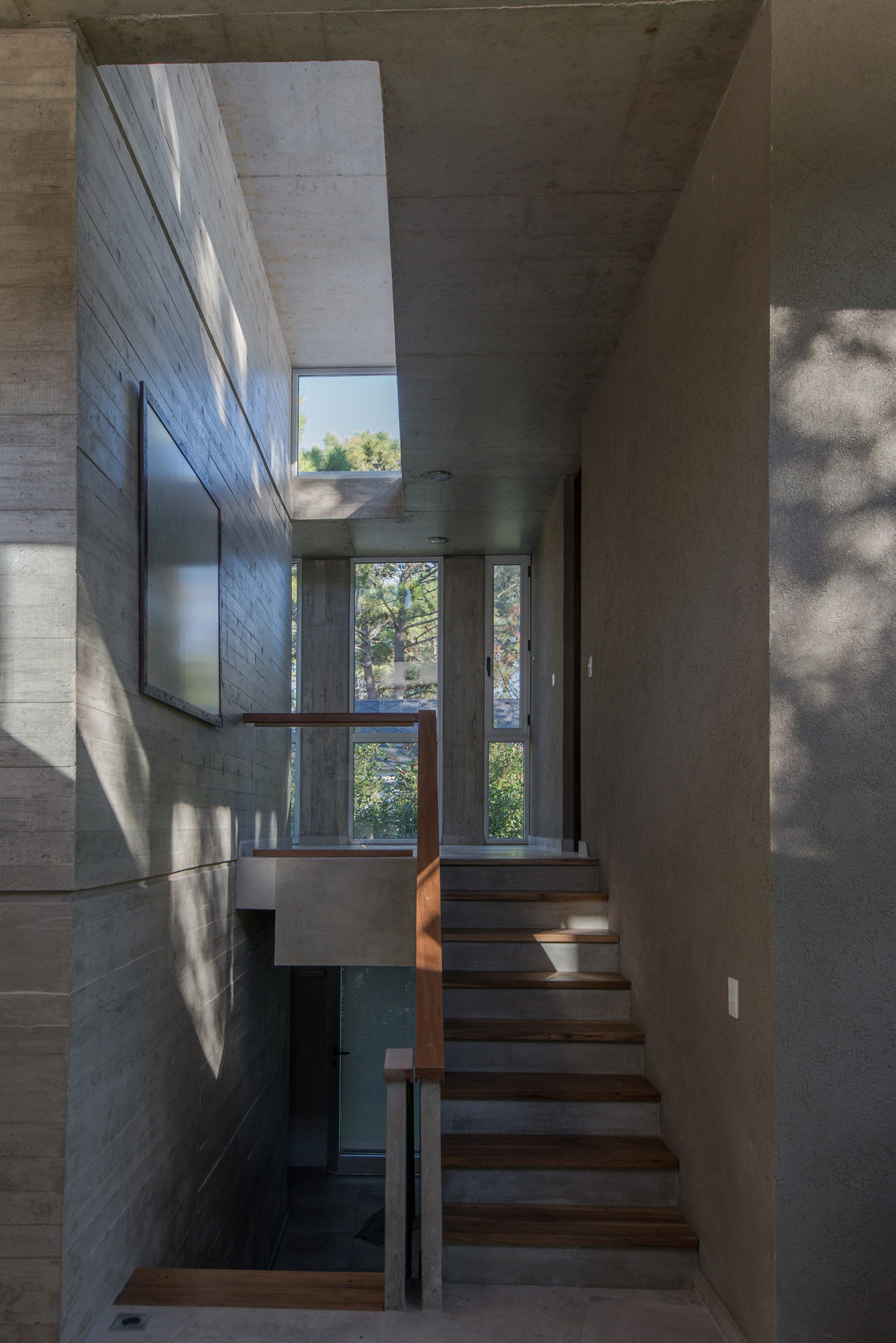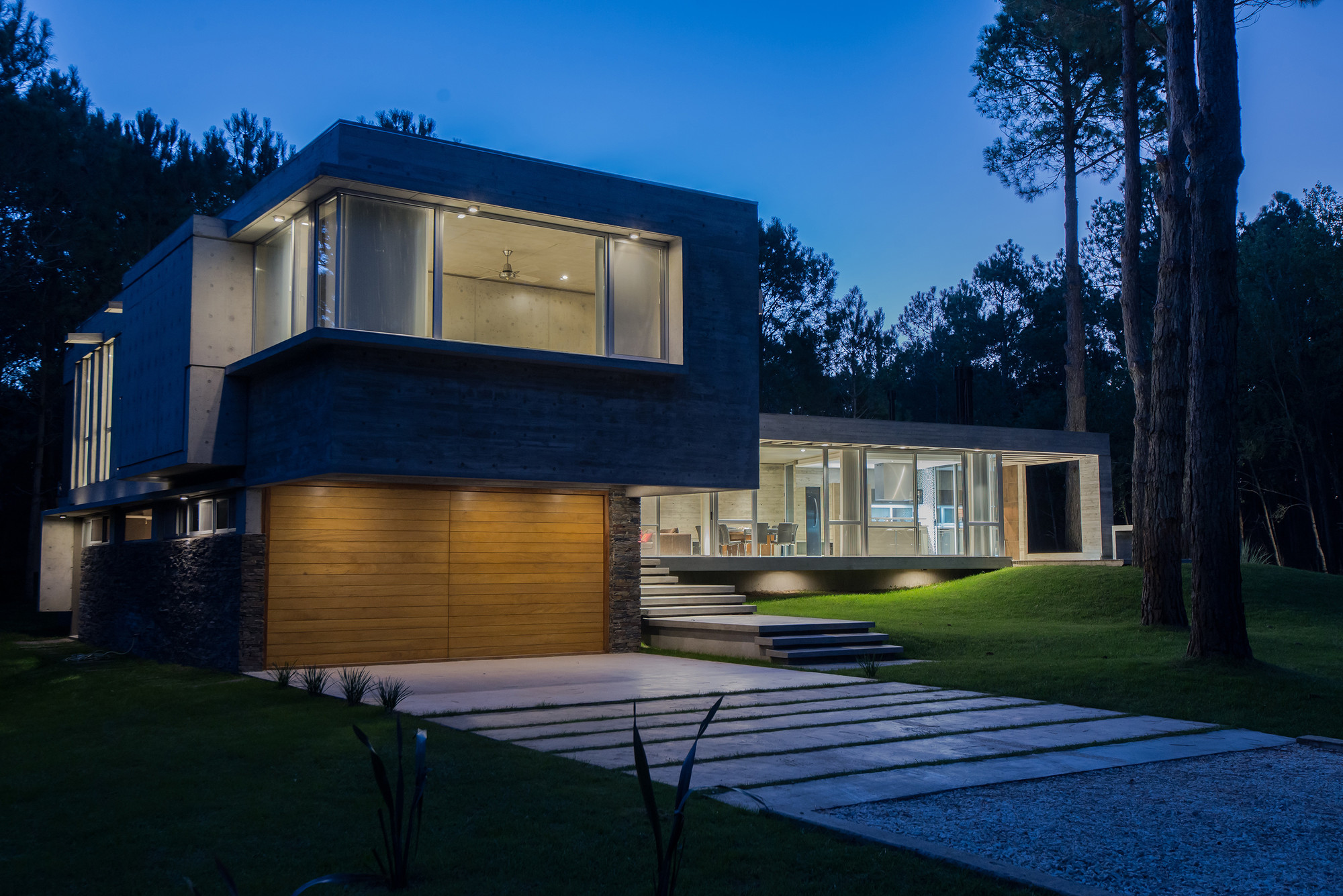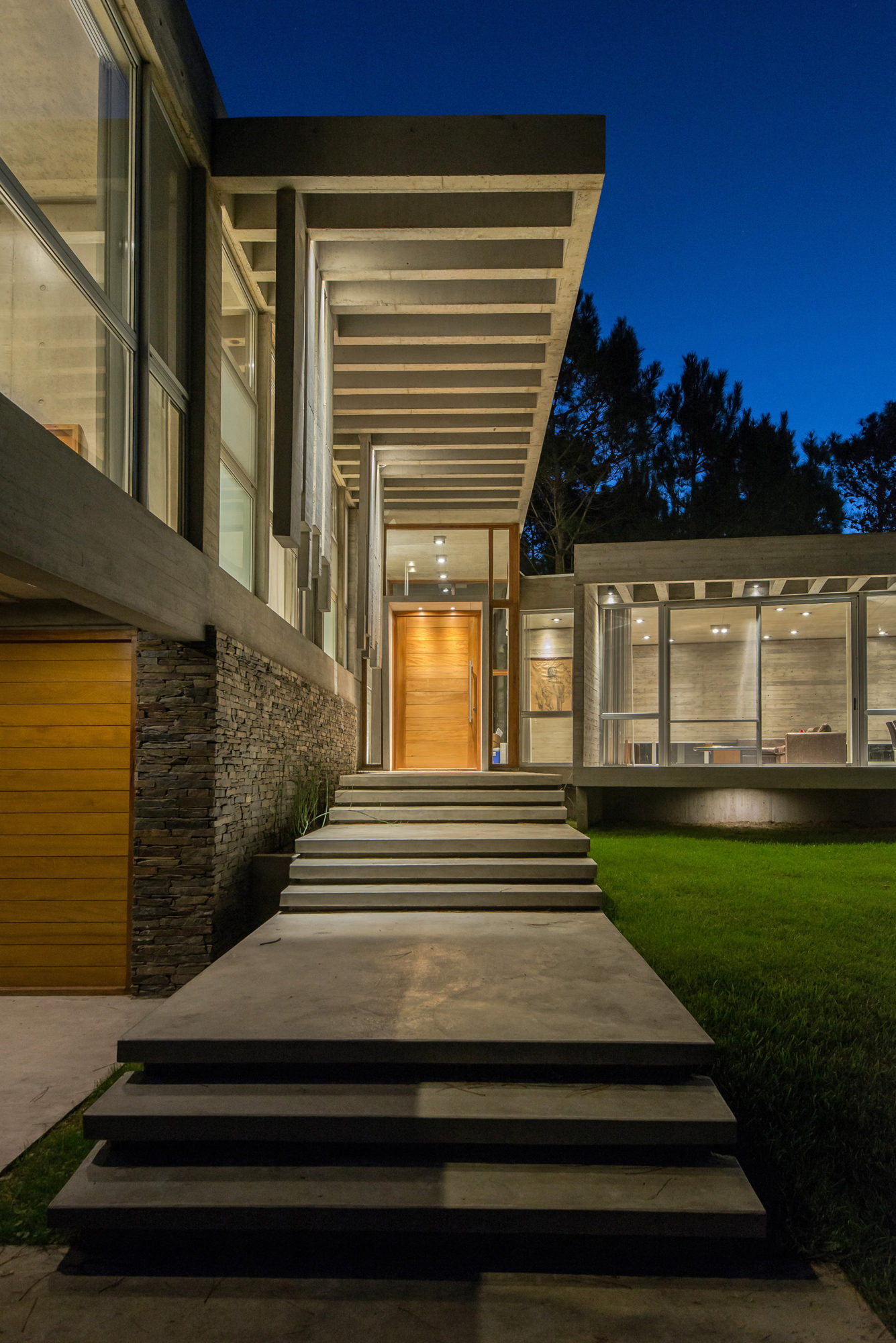 From the architect:
The project was designed around a specific design problem:  to satisfy functional, aesthetic, and semantic needs.

The house, situated on a 1032 m2 corner lot in the city of Cariló, is lifted above the natural terrain level due to the low height of the terrain and the area's restrictions on modifying the natural topography. This creates an indirect link -visual rather than functional- between the house and the lot.

The program is divided into two wagons, separating the private from the social areas.

These wagons, which are placed in an L shape and are separated by half a level, open to the garden at the front façade as it engages the street.

The hierarchical access created by the house height and the various entrances of sunlight become the link between the different architectural volumes. This disposition offers flexibility of use to the residents of the house and protects their privacy.

The play of sunlight created over the different textures, which was paramount in the development of the project, makes the architectural experience rich to the senses and variable through time. Oblique pergolas, roof fenestrations, ground level windows, bars of acrylic in concrete walls, repetitive columns which protect the kitchen, and the rhythmic brisolei which gives privacy to the bathrooms create daily games of sun and shades.

The use of materials in their natural state produces chromaticity and gives a rich tactile and visual texture. At the same time, the predominance of concrete generates a visual unity amongst the blocks, stone, and timber, granting a natural touch of warmth and ruggedness.

The house is an articulated and dynamic composition that plays with axis, scheme, skew, and rhythm.
Architects: Estudio Galera
Location: Cariló, Buenos Aires Province, Argentina
Area: 293.0 sqm
Project Year: 2015
Photographs: Diego Medina – dcfotografia
Planning and Project Direction: Galera Studio
Design Team: Ariel Galera, Diego Ballario, Cesar Amarante
Collaborator Architect: Horacio Riga
Collaborator: Veronica Coleman
Surveyor: Claudio D´eramo
Structural Engineer Engineer: Javier Mendia
Texts: Francisco Villamil
Translation and text editing: Soledad Pereyra
Contractor: Acosta-Audine