This beautiful house is located in Arrifana, Portugal, and it was completed in 2014 by Pedro Henrique. It flaunts a pure white, minimalistic exterior and offers 3,659 square feet of living space to its owner and his or her guests. Even though it was built in a village that's close to the city of Santa Maria da Feira, the residence has a distinctive rural charm about it.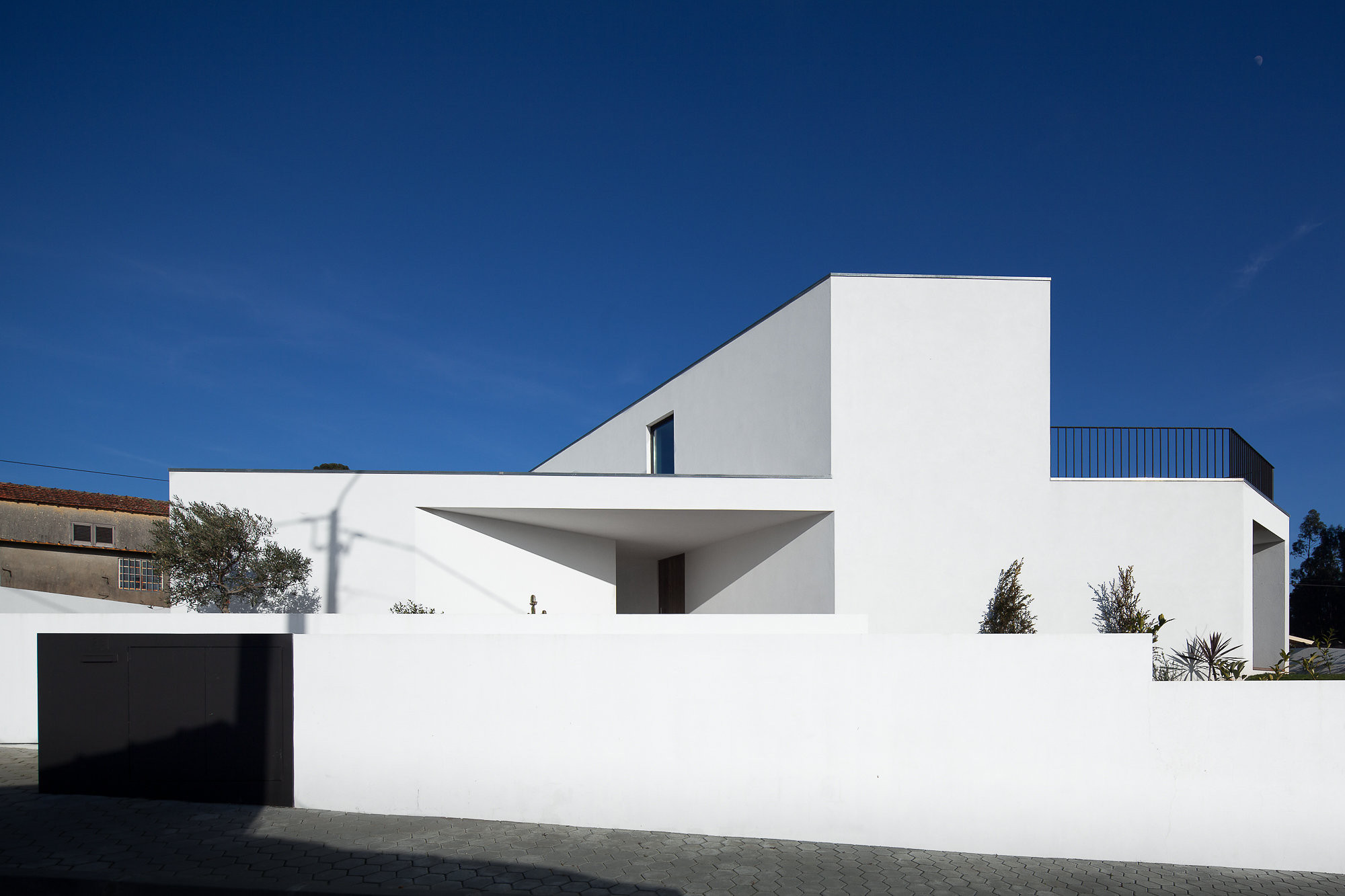 The streamlined interior features white ceilings and walls as well as high quality wooden floors that add a touch of warmth and coziness. In order to further accentuate the home's relationship with nature, the architects also implemented a special "green corner" in one of the bedrooms, which allows the residents to tend to and admire small trees and a few shrubs. This home does not feature any extravagant decorations and was designed to offer simple, comfortable living conditions in a tranquil environment.
From the architect:
The house is located in Arrifana, a small village, which is just four kilometres from the centre of the city of Santa Maria da Feira, but still maintains the strong rural features with all its charm and beauty, that characterizes this type of housing style and were the Vouga railroad persists till today.

The project is developed in a land lot characterized by its triangular shape, with little rugged topography, that establishes a superior interface with the contiguous land as well as the street level, allowing us to extend our gaze over the horizon.

The building is incorporated and occupies a large part of the land; therefor it maintains the same triangular shape. The architectural volume allows a variety of perspectives, exceeding the upper floor by its articulation with the lower floor.

The facades of the building had all the same treatment, defining a white volume, where the emptiness's outlines the shape and regulates the entry of natural light, projecting still, an interesting set of shadows.

The interior of the house is composed with a streamlined form, with white colour on the walls, ceilings, woodwork and wood on the floor, all features, that allow the conception of a comfortable environment that values homogeneousness.
Architects: Pedro Henrique
Location: Arrifana, Portugal
Area: 340.0 sqm
Project Year: 2014
Photographs: José Campos
Structures: Célia Resende
Infrastructures: Célia Resende