This ultra-modern abode rests on the 53rd floor of PANO Apartments in Bangkok, Thailand. It is the 4th highest apartment in the country and overlooks the historic Chao Phraya River. The panoramic view offered by this penthouse is just fabulous!
Progressive PANO Penthouse in Bangkok
Ayutt and Associates Design created this masterpiece space under the concept of "living between city and nature". The high-tech interiors of the penthouse make it look like it came straight from a sci-fi movie. But the beauty here lies in blending indoors and outdoors. The massive garden and pool area give a feeling of an urban villa. The open spaces present on all three floors preserve the voluptuousness in the apartment.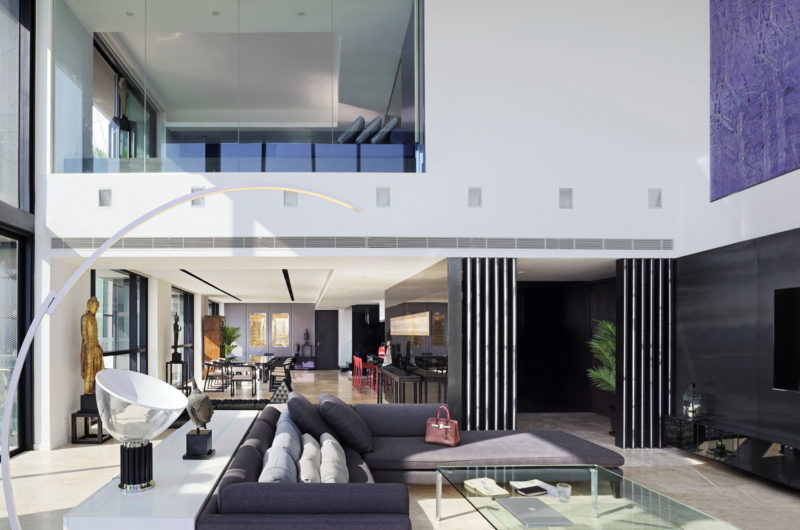 In the penthouse dwells a small family who wanted a unique abode that was luxurious and green. And coming from a business background, the family desired a space that could host a lot of people and acts as a perfect space for socializing. Hence, the ground and top floor serves as a party place for large gatherings while second floor has private spaces like kid's rooms, guest rooms, and family room.
This triplex follows the concept of fluid and dynamic spaces which are the mainstream in the entire project. The hall and living room design acts as a focal point of the house. Owner, who is an art connoisseur has punctuated gorgeous art pieces in every part of the house. This adds an artistic and personal essence to space.
The second floor of this penthouse has a uber-contemporary design. The master bedroom adorns sleek and shiny finishes with minimal elements. The Master bathroom has a luxurious look and accommodates a vertical green wall.
What makes this project a perfect amalgamation of modern and natural is the use of greenery in upbeat spaces. On the terrace, you can find a lush green tree in front of the outdoor pool. Sitting on the sunbathing chairs while ogling the marvellous view of Thailand would be the ideal thing to do on the top of PANO Penthouse!