When choosing the right kitchen wall covering, the most common choice for consumers to make it to select between wall panels and tiles. Wall panels are made from one large piece of material. Also known as wall cladding, they provide your home with some visual appeal.
Tiles for inside use can either be glazed or ceramic, but other materials like metal, stone, and glass are common. Besides using them in the kitchen, you can appropriate them in the bathroom, tabletops, floors, and other walls around the house.
Reasons for Kitchen Wall Panels
Before choosing one material over the other, you have to compare and know the one which has the best solutions. Here are some reasons why you should consider kitchen wall panels.
1. Waterproof
For commercial use, kitchen wall panels are essential for protecting the walls from condensation. If you want some waterproof capabilities of the walls in your kitchen, wall panels should be the go-to solution. Besides, their waterproof nature makes it easier for you to clean these panels.
2. Various Styling Options
 Wall panels provide the kitchen with some aesthetic appeal. There are many designs for you to choose from, and you will easily match them with the design of your home. Instead of having a tiled kitchen, wall panels ensure that you can add more brightness to the kitchen. You can achieve this by choosing wall panels with marble effect cladding since they reflect more light.
3. Ease of Install
 Since most wall panels are made from PVC, they are lightweight and durable. You also get to enjoy a high-quality finish within your kitchen. Besides adding to your walls' beauty, the wall panels will be easy to install since you can use adhesive and screws.
 When installing tiles, you need to ensure that they are all straight by laying individual tiles. However, wall panels are easy to install since you can lay them in 1-meter sheets. Laying these large panels makes it more affordable to purchase these panels.
4. Multipurpose
 Wall panels are incredibly versatile. You can use them in most places within your home. As for the kitchen, you can find some unique designs that you can work with. You can focus on choosing some wall panels and textures that can work ideally with the kitchen design.
5. Colour Options
 There are many decorative wall panels that you can pick from. The variety of colours makes it easier to pick something that will work with the kitchen. You will always find some panels which will match all the needs or designs that you might have.
 Reasons for Kitchen Tiles
 Besides choosing wall panels for your kitchen, you can as well opt for tiles. Tiles are ideal for use in most places within the house. Here are the different reasons why you should consider choosing tiles.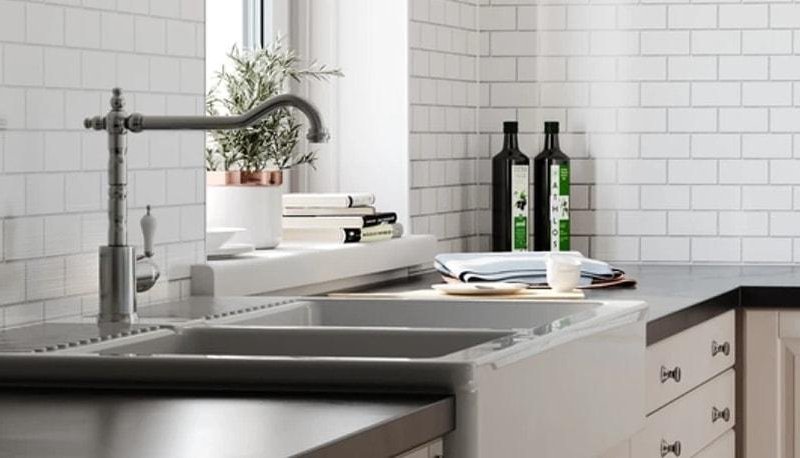 1. Affordable
 Ceramic tiles present you with some affordable solutions in your home. Consider choosing a style that can work with your kitchen. With tiles, you can find some practical options to use with the kitchen walls. Also, their durability will be a factor to consider since it will justify their worth.
2. Endless Design Options
 There is a broad spectrum of tiles to choose from for your kitchen walls. Some of the walls' common designs will entail metro brick, glossy white, encaustic effect, wood look, etc. As the homeowner, your focus should be on the different sizes and designs you would need for your kitchen.
3. Water-Resistant
 With tiles, water resistance is a feature that can benefit you. It makes it easier for you to clean and ensure that your kitchen is always appealing to kitchen walls. During humid conditions, it indicates that your wall has protection from stains and water.
4. Low Maintenance
 The water-resistant nature of the tiles makes it easier for you to clean. In case of any stains on the walls, all you need to do is wipe. Tiles will, therefore, be great solutions for both commercial and home purposes.
 Choosing Wall Panels and Tiles
 Knowing why using either wall panels or tiles for your kitchen will be the first step towards remodelling the kitchen. Consider looking at these factors to understand how you can pick either wall panels or tiles.
1. Budget
 Both wall panels and tiles are inexpensive within your kitchen. The advantage of using a wall panel is that there are tons of affordable options to work with. Besides, inexpensive tiles might not be the best quality. Before choosing a reasonably priced tile, you need to check the different places on the wall where you'll install them.
2. Family Habits
 Get to assess your lifestyle and different family habits when choosing between wall panels and tiles. Wall tiles will have different textures compared to floor tiles. Therefore, ensure that you specify your needs when picking a tile and select the right option for your walls.
 Choosing wall panels will be different from selecting tiles. Wall panels will have different sizes. The focus should be on the size which can fit the space that you have. Since you can buy these panels as a 1-meter square, you will need fewer panels for the available space.
 Picking the Best Solution
 Choosing between wall panels and tiles can be an arduous process for many people. However, understanding your needs can assist you in knowing the easiest ways of picking these solutions. If you want to spend less and have a unique looking kitchen, wall panels will be the best solution. Tiles are ideal if they're the only option you have to consider, and you have a flexible budget to work with.